Best in Class For Marine Electronics
If you're looking for the best marine electronics products to enhance your lifestyle, then you're in luck! The year 2022 saw the launch of a wide range of innovative and cutting-edge products. These designs are here to make your life easier, more convenient, and more enjoyable. Consider some of the best 2022 products to upgrade your 2023 boating experiences. These products are sure to meet your needs and exceed your expectations.
National Marine Electronics Association names 2022 award winners.
The theme of the 2022 NMEA (National Marine Electronics Association) Marine Electronics Conference & Expo, held in Anaheim, California, last October, was "How information is shared and displayed on boats." More than 50 manufacturers from the U.S. and around the world competed for three awards.
NMEA members cast their votes online in 18 categories for the Product of Excellence Awards while a panel of independent judges named winners for the NMEA Technology Award and Best New Product contests.
Also, Actisense, a manufacturer of data buffers and multiplexers that help share data between onboard electronics, won the NMEA Manufacturer of the Year Award for Levels 1 and 2, while Garmin won the Level 3 NMEA Manufacturer of the Year Award.
Here's a look at some of the National Marine Electronics Association Award winners:
NMEA Best New Product Award:
Maretron WSO200 Ultrasonic Weather Station
Maretron's WSO200 Ultrasonic Weather Station measures wind speed and direction, air temperature, barometric pressure, and relative humidity. Ultrasonic sensors perform wind measurements, meaning no moving parts can wear out or get caught in the rigging. The WSO200 mounts on a 1"-14 standard marine mount. It is not affected by common issues, like bearing wear, salt and dirt buildup, or bird perching. These issues can all result in failure or data inaccuracy. Precise wind speed and direction are achieved under a tilt of up to 30 degrees, such as when heeled sailboats or powerboats are operating in pitching and rolling seas. MSRP $595; maretron.com
NMEA Technology Award: Airmar SmartBoat system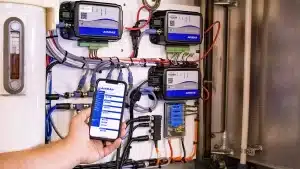 Retrofitting a vessel's electronics can lead to the dilemma of how to integrate older sensor systems with today's NMEA 2000 networks. Enter Airmar's new SmartBoat system. Multiple analog sensors are connected directly to SmartBoat modules and are easily recognized, regardless of their protocols. SmartBoat modules simultaneously convert the sensor data and any other NMEA 0183, J1939, or analog protocols to NMEA 2000. The sensor data is then communicated via the NMEA 2000 network to computers and/or the vessel's multifunction displays, where old sensors can have new visibility. The SmartBoat system is installed without the need for pricey, sensor-specific translation modules or costly software. The system also enables the configuration and control of the analog devices themselves, using a simple, built-in, browser-based tool. MSRP $699-$1,445; airmar.com
2022 Product of Excellence Awards
Marine VHF: ICOM M510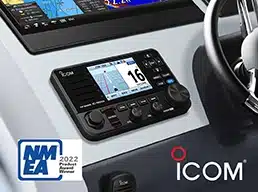 The M510 is a Class-D DSC VHF marine transceiver with wireless capabilities, yet powerful and durable enough for the commercial market. The M510 can receive AIS signals (AIS version only), see surrounding vessel traffic in real-time, and directly make individual DSC calls to selected targets. At nearly half the depth of the M506, installation location options are wide open. The 3.5-inch color TFT LCD screen provides a wide viewing angle and high-resolution characters and icons for supreme readability, even in low light with night mode. MSRP $799; icomamerica.com
Radar: Furuno DRS4DNXT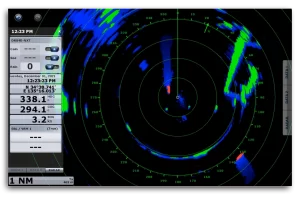 Furuno's DRS4DNXT won for the fifth consecutive year and is one of four Furuno winners of NMEA awards in 2022. The DRS4DNXT is a Solid-State Doppler Radar in a compact 24-inch radome. It features Furuno technologies such as Target Analyzer, Fast Target Tracking, and RezBoost Beam Sharpening. All modes and features that are the hallmarks of the NXT series are available, including Bird Mode, Rain Mode, and dual-range capability. With Target Analyzer, target colors change in real time, allowing users to spot potentially hazardous situations immediately. Green echoes are stationary targets, landmasses, or targets approaching your vessel at a velocity of less than three knots. MSRP $2,920; furunousa.com
Satellite Communications Antenna: KVH TracPhone V30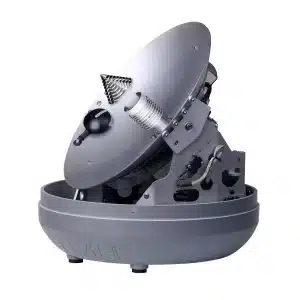 The KVH TracPhone V30 is one of three KVH winners of NMEA awards in 2022. The TracPhone V30 is a 14.5-inch commercial-grade, Ku-band, DC-powered VSAT antenna providing data speeds as fast as 6 Mbps down/2 Mbps up to boats worldwide. It features an integrated high-speed modem and single cable for easy installation and improved signal efficiency, plus a rotary joint for unlimited rotation. The TracPhone V30—the smallest, lightest marine VSAT terminal available—utilizes Intelsat's FlexMaritime service to deliver global multi-layered satellite coverage. It is designed for smaller boats or an ultra-fast VSAT backup for superyachts. MSRP $11,995; kvh.com
Multifunction Display: Garmin GPSMAP 8616xsv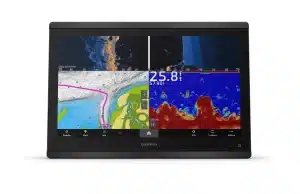 Garmin's fully networkable GPSMAP 8616xsv chartplotter features a 16-inch full HD in-plane switching touchscreen display for wider viewing angles, superior clarity, and sunlight readability, even with polarized sunglasses. It includes built-in support for Garmin's full suite of sonar options (transducers sold separately). The device is preloaded with Garmin exclusive BlueChart g3 coastal charts and LakeVü g3 inland maps, which have integrated Navionics data as well as Auto Guidance technology. Multiple displays can be flat-mounted edge to edge to create a sleek glass helm look or flush-mounted. See rpms, fuel flow, temperature, trim, and more for up to four compatible Mercury engines by using the SmartCraft Connect gateway. MSRP $6,099.99; garmin.com
Multimedia Entertainment: Fusion Apollo MS-RA770w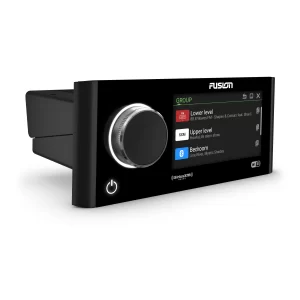 The Apollo MS-RA770 is a touchscreen marine stereo with built-in Wi-Fi, featuring technology and innovative design including Fusion's Digital Signal Processing, PartyBus, over-the-air software updates, a one-piece glass display, and multiple source options. The 4.3-inch touchscreen includes play, pause, and skip functions using touch display commands. The Apollo MS-RA770 stereo has an IPX6- and IPX7-rated water-resistant front panel. Product testing shows a high level of protection against UV, salt fog, temperature, and vibration. Apollo also allows users to control music from a compatible MFD, smart device, or Garmin watch. MSRP $699.99; garmin.com
Marine PC Software: Nobeltec TimeZero Professional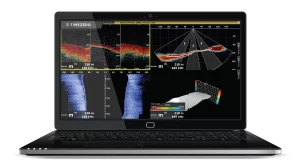 TimeZero Professional is a marine navigation software provided by Nobeltec that works with MFDs to help users plan and control trips and improve performance. TimeZero software can integrate chart, weather, and instruments data to enhance boat operation in any area of the world. Previous versions of TimeZero included Furuno native compatibility and Personal Bathymetric Generator, and now the software is in use on boats ranging from large commercial vessels to sportfishing boats. TimeZero Professional supports the weekly updated officially encrypted S-63 charts. These maps respect the S-52 standard developed by the International Maritime Organization (IMO). The iconography offers a simplified display to improve the readability of the marine charts on-screen. MSRP $1,500; mytimezero.com 
Marine Camera: Teledyne FLIR M364C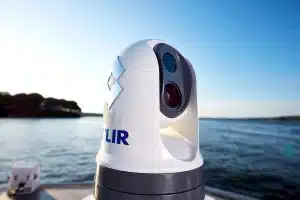 Featuring a high-definition, low-light camera and an advanced FLIR thermal imaging core, the M364C provides greater awareness on the water. The M364C uses multispectral imaging to deliver FLIR Color Thermal Vision (CTV) technology. CTV blends visible camera details with a thermal image, overlaying vital color imagery that allows captains to positively identify navigation aids and other vessels within the thermal scene. The M364C also has daytime capability packing a full HD visible light camera system with a 30x optical zoom and ultra-low light capability. This camera, matched with advanced pan/tilt drive and gyrostabilization, makes for an any-hours observation system that works better than binoculars for looking both near and far. MSRP $22,495; flir.com
AIS: Vesper Marine Cortex M1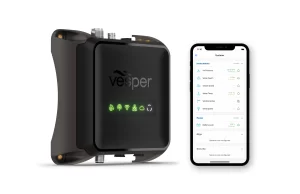 The Cortex M1 hub is a full five-watt Class B SOTDMA (Self Organized Time Division Multiple Access) smartAIS transceiver. It combines advanced collision avoidance AIS technology with proactive alerting plus remote monitoring and control of onboard systems from a compatible smartphone. Configure and control Cortex M1 on board via the Cortex Onboard app. Monitor internal or connect up to five external sensors or network via NMEA 2000. A built-in 10Hz GPS antenna and heading sensor improves situational awareness and AIS position reports. The integrated no-loss splitter can share a single antenna with an existing VHF marine radio. Simply add a Cortex handset for full VHF capability. MSRP $1,349.99; vespermarine.com
Remote Monitoring: GOST Apparition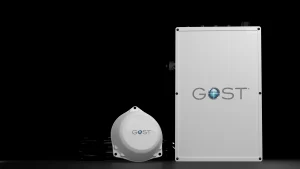 The GOST Apparition package provides boat owners with the peace of mind that their boat is secure and all its systems are monitored in real-time. Users can view and monitor all the boat's critical systems on a single dashboard with real-time messages and alerts of any potential issues. The Apparition system features sensors for motion, infrared beam, high water, canvas snap, pull, freezer, door hatch, heat, deck, and more. In addition, products available include power monitoring, an acoustic sound barrier, mini sirens, strokes, a cloak system, key fob, and touchscreens. Price upon request; gostglobal.com 
Let's Wrap-Up
These are only a few of the exciting marine electronics showcased at the event. It's no wonder the marine industry is so dynamic and exciting with technology like this. If you're looking for the best marine electronics, look at the award winners from the 2022 NMEA Conference & Expo.
-by Doug Thompson
The post Marine Electronics: Discover The Latest Award-Winning Products For 2023 appeared first on Southern Boating.