The Sniff Test
Sanitation system plumbing can be made both leak- and odor-free.
As the client and I hunkered down in his vessel's forward bilge area adjacent to the holding tank, I detected the faint yet dreaded eau de blackwater, or sanitation system odor. I looked at him and raised my eyebrows. He said his sense of smell wasn't great, and he'd been convincing himself it was his (and his wife's) imagination. I assured him it wasn't. While I've become accustomed to this scenario during my three-decade-long marine industry career, it's not one I accept. I'm a firm believer that if a vessel smells like effluent, even if it's in engineering spaces, something is wrong. It's always fixable, albeit with time and money.
Effluent, blackwater, waste, whatever you wish to call it, stored in a holding tank or plumbing, has an odor that is typically so pungent, a few drops can permeate an entire vessel. In other words, it doesn't take much to become an issue, and in many cases, it doesn't even require an actual liquid leak—permeation of hoses can lead to the very same effect. I've witnessed several brokerage sales go south as a result, so even if it isn't a problem for you, it's likely to be a problem for a potential buyer, for whom dryer sheets, air fresheners, or boxes of baking soda tucked away in bilges is always a dead giveaway.
If you are facing an effluent odor issue, start with a plumbing tune-up; wear gloves and eye protection. Inspect every hose run, look for any signs of mold or growth (I've actually encountered what looked like mushrooms growing on waste hose), run your gloved finger under every pipe to hose connection, at tanks, valves, anywhere there is a union; any liquid or crustiness, no matter how small, is too much.  While it's difficult to avoid on the average vessel, dips or traps in hoses, where effluent can stand, is best avoided as this can lead to permeation. 
Next, check the tension of every hose clamp. Ideally, they should all be doubled and in good condition, free of corrosion or cracks. If your holding tank utilizes a hose connection at the bottom rather than a pickup from the top, that is often a source of trouble, as the hose is, by design, always submerged in effluent—something most hose manufacturers tell users to avoid. While better tank designs restrict all fittings to the top of the tank, this problem can be dealt with by converting the section of hose that would be submerged to PVC pipe. In fact, the more PVC pipe (as opposed to hose) that's used the better, especially where dips and traps are unavoidable.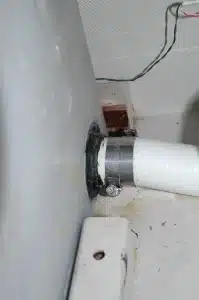 Finally, once you've confirmed there are no leaks, carry out a permeation test. Start by thoroughly rinsing a clean cotton rag in very hot water to remove all remnants of detergent, surfactants, or perfume. Once clean, wet it again with hot water and then wrap it around a hose in an area where the odor is noticeable, leaving it there for three or four minutes. Then, remove the rag and immediately place it in a plastic Ziploc bag. Walk off the vessel and up wind, then open the bag and stick your nose right into it and sniff. If it smells "blackwateresque," you have a permeation issue and are ready for new hoses. Repeat the test in a few different locations, especially areas that may trap liquid.
Prevention is the Best Medicine for your Sanitation System
Even after you've found and resolved the source of a sanitation system, its eradication can be equally as daunting. Upholstery, carpet, bedding, and other soft goods can become permeated, in some cases permanently. Preventing odors is, therefore, always the preferred approach. Start with a good design, engineering a system that minimizes traps, and one whose holding tank relies on top penetrations alone. Ideal holding tank materials include linear polyethylene and fiberglass. The former should be a minimum of 3/8-inches thick to better resist permeation. While costly to custom-build, fiberglass is the most durable and permeation-proof. It should be built using vinylester or epoxy resin and clamped rather than cast in place plumbing fittings.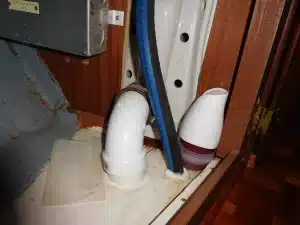 As noted previously, PVC pipe offers significant advantages over hose, in that it neither permeates nor wears out. It must be well-supported to prevent stress-induced fracture. The selection of sanitation hose can take on a near-religious fervor equal to that of anchors, however, at the very least, the hose that is selected should include a minimum five-year and ideally 10-year permeation warranty. Keep in mind, most PVC-based sanitation hoses warn against the use of "solvents and chemicals," which could include winterizing anti-freeze. "Rubber" or EPDM-based hoses carry no such prohibition; I'm partial to them.
Finally, holding tanks stink because they represent an oxygen-poor environment, where anerobic bacteria, the kind that smell, thrive. It stands to reason, therefore, that introducing oxygen into the tank will at least reduce the pungency of the odor within, and that, in turn, will make odors that escape less noticeable. Air introduction can be either passive or active. Passive ventilation involves plumbing oversized vents (up to 1.5 inch for larger tanks) to opposite sides of the tank and opposite sides of the vessel thereby creating cross ventilation. I know of at least one active holding tank ventilation system; it's a low-power, low-volume pump (similar to one that would be used in an aquarium) that bubbles air into the effluent continuously.
Keeping your sanitation system working well and smelling sweet starts with a good design and materials and ends with routine inspections and upkeep. 
-by Steve D'Antonio
The post The Sanitation System Sniff Test: Powerful Odor-Free Tips appeared first on Southern Boating.