Experience Thai Cuisine Onboard!
Plan a delicious Thai dinner to savor on your next voyage.
Thailand is known for its vibrant and delicious cuisine, which makes it the perfect choice for your next onboard meal. Indulge in the rich flavors and fragrant spices that Thai food is famous for. Prepare a mouth-watering Thai feast for your next voyage with these favorite recipes.
Thai Mango Salad
Dressing:
⅛ cup oil
½ tsp. grated lime rind 
1 Tbsp. lime juice
½ Tbsp. fish sauce*
1 tsp. sugar
½ tsp. minced hot pepper or hot sauce
⅛ tsp. each of salt and pepper
Salad:
1 mango, peeled, pitted, and sliced (or peaches or nectarines, sliced) 
½ sweet pepper, cored, seeded, and sliced
1 carrot, sliced thin
2 cups mixed greens
⅛ cup scallions, sliced
⅛ tsp. each of salt and pepper
¼ cup peanuts, chopped
1 Tbsp. chopped mint or pinch of dried mint
1 lime, quartered
In a large bowl, whisk together dressing ingredients. Add first five salad ingredients to dressing and toss to coat, adding salt and pepper. Serve salad sprinkled with peanuts and mint, plus a lime quarter to squeeze over salad.
* Substitute: equal amount of soy sauce, or oyster sauce mixed with a ½ teaspoon of anchovy paste or Worcestershire sauce.
Thai Shrimp
½ Tbsp. each of minced ginger root and turmeric root (or pinch each of dried ginger and turmeric)
2 Tbsp. garlic, minced
½ tsp. salt
1 Tbsp. lemongrass, minced* 
½ lb. uncooked shrimp, peeled, deveined
1-2 Tbsp. oil
⅛ tsp. each of salt and pepper
Mix turmeric, garlic, lemongrass, and salt, and add to shrimp. Marinate at room temperature for 30 minutes, turning occasionally. Heat oil in a large nonstick skillet, and add marinated shrimp. Sauté, turning occasionally, until cooked through, 4-6 minutes. Add salt and pepper.
* Substitute: 1 tablespoon of lemongrass paste or 1 tablespoon of grated lemon zest mixed with 4-5 leaves of minced arugula. 
Pad Thai
Sauce:
2 Tbsp. sugar
2 Tbsp. lime juice
3 Tbsp. soy sauce
⅛ tsp. Sriracha hot sauce
Noodles:
1 Tbsp. oil
¼ cup scallions or onions, thinly sliced
1 garlic clove, minced
1 large egg, lightly beaten
8 oz. Thai rice noodles (or other noodles/pasta), cooked according to package directions
¼ cup cilantro, chopped (optional)
⅛ cup roasted peanuts, chopped
1 lime, quartered
In a small bowl, whisk sauce ingredients. In a large skillet, heat oil over medium heat. Add scallions and garlic and cook until fragrant (about 30 seconds). Add eggs and scramble for 30 seconds, until almost set. Add noodles and sauce to skillet. Cook, tossing constantly, until noodles are coated with sauce and eggs (about 2 minutes). Serve noodles topped with cilantro, peanuts, and a lime wedge for squeezing.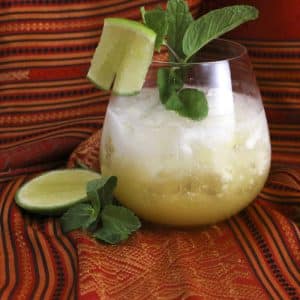 Thai Pearl Cocktail
6 oz. pineapple juice
3 oz. light rum
2 oz. coconut milk
2 tsp. lime juice
2 lime slices
2 mint sprigs (optional)
Mix pineapple juice, rum, coconut milk, and lime juice. Pour into two glasses filled with ice. Garnish each glass with a lime slice and a sprig of mint. 
-by Lori Ross