Regattas are a fun time for everyone, sailors and spectators alike! Read more about the Regatta happening this weekend.
March 27-April 2, 2023
BVI Spring Regatta & Sailing Festival is proud of its 2023 sponsors – the event would not be possible without their participation, and we are so grateful for their support:
*Nanny Cay Resort and Marina *BVI Tourist Board *Cape Air *Carib Beer *International Motors *Mount Gay Rum *The Moorings *Tito Vodka *Portland Ship Yard *Sea Hawk New Nautical Coatings Inc./ Akzo Nobel *Scrub Island Resort, Marina and Spa *SHRM Group *Sol Petroleum *BVI Government *Coca-Cola *RiteWay *Talking Points
PRESS RELEASE: 30 March 2023
50th BVI Spring Regatta & Sailing Festival Starts Friday – Mount Gay Race Day
Blissfully perfect conditions for 71 boats registered!
BRITISH VIRGIN ISLANDS, March 30, 2023 – Registration for the 50th BVI Spring Regatta & Sailing Festival is underway and outstanding conditions are forecasted for three days of racing in the Spring Regatta March 31 through April 2.
"Conditions for Friday and through the weekend are going to be perfect," Bob Phillips, Regatta Chairman said. "We are expecting winds in the mid to high teens with temperatures in the mid-eighties and sunny skies. Different classes will sail different courses and the Race Committee is expecting to use some of the outer islands like Cooper, Salt, and Dead Chest for turning points – competitors will see the outside of some of spectacular islands they may not have seen previously."
With 71 boats registered this year, the Regatta has traditionally attracted a diverse fleet of boats in addition to a strong bareboat fleet. This year is no exception, with eleven classes and great competition lining up in CSA 1, 2 and 3.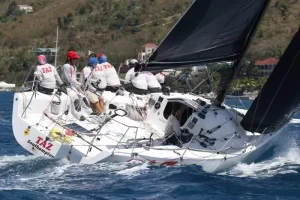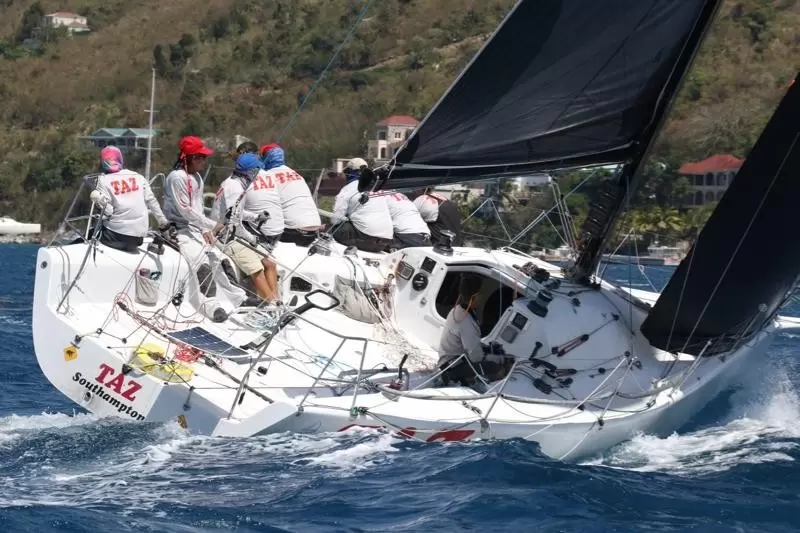 In CSA 1, the Lombard 46 Pata Negra chartered and skippered by Dr. Laura Schlessinger, won class in the Scrub Island Invitational, and has all the talent on board to do well in the BVI Spring Regatta. Lining up in CSA 2 is a fleet of long-time Spring Regatta competitors who have all raced against each other many times: Blitz – the Summit 40 owned and skippered by Peter Corr/USA, Team McFly on the J/122 El Ocaso, chartered and skippered by Tony Mack (UK), Spike – the J/111 owned and skippered by local Tortola sailor Sam Talbot who will be able to pace it up with another J/111 – Summer Storm, skippered by Andrew Berdon (USA), and Taz, the RP 37 owned and helmed by Bernie Evan-Wong (Antigua).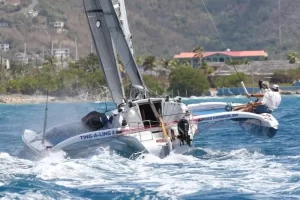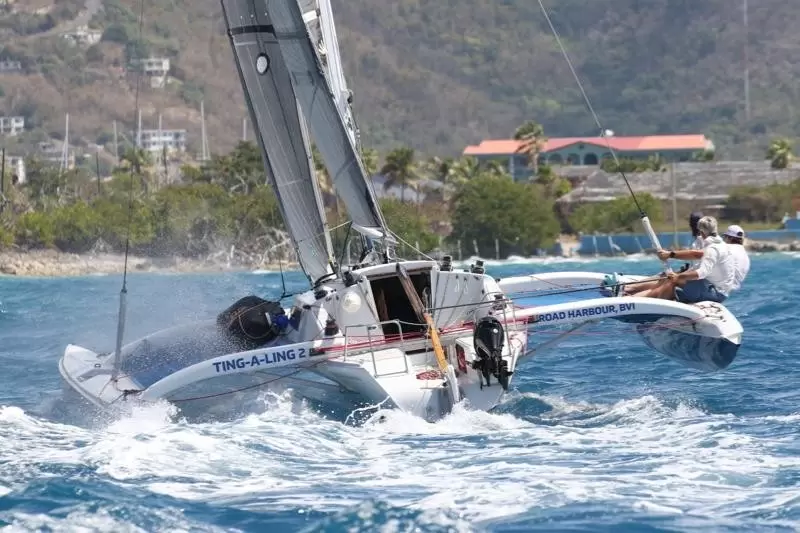 The Sport Multihull division will also be fast and fun, with five competitive boats from the BVI and one from St Maarten completing the fleet. Will it be a father-son show-down between Ting-A-Ling 2, the Corsair F31R owned and skippered by Chris Haycraft who won class in the Round Tortola race earlier in the week, and Ting-A-Ling, the Corsair F27 skippered this week by Haycraft's son Nathan? All the cards are on the table.
Sparring began earlier this week in the Bareboat Fleet with Team Merlin (USA) on the Moorings 45 Sea's the Daze taking first in class in the Scrub Island Invitational, and also in the Round Tortola Race when they were followed closely by Rumba Fish Racing Team (USA).
It's fantastic to watch the bigger boats in the fleet – the Offshore Multihulls – racing in the beautiful BVI waters – check out the images @bvispringregatta.com. The regatta is thrilled to have so many of these boats returning year after year, including Mach Schnell, the Gunboat 62 owned by Kent Haeger (USA), Thirst, the Gunboat 55 owned by Seamus Hourihan (USA), Nemo, the HH66 owned by Todd Slyngstad(USA), and Coco de Mer, the Gunboat 66 owned by Angus Ball (UK).
It's time to go racing – see you on the water!
Keep up-to-date with all the news, photos and videos via the regatta website:
Follow us on social media: #BVISR
Instagram:
Facebook:
Schedule of Events: schedule-of-events/
MEDIA ENQUIRIES:
Trish Jenkins – BVISR Press Officer
Mb: +44 (0)7880 518689 (+ WhatsApp)
Skype: TrishJenkins
NANNY CAY MEDIA ENQUIRIES:
Broadsword Communications
Alastair Abrehart
Tel: + 1 (284) 541 4578
Read more News at Southern Boating here.