Yamaha introduces the 450-hp XTO Offshore outboard.
I stepped on the World Cat 400CC-X for the first time at the 2023 Miami International Boat Show to test out the new Yamaha Marine 450-hp XTO Offshore outboard. Boasting a much-improved engine and the replacement for the 425s, I was looking forward to seeing (and listening to) them as well as seeing how the World Cat reacted.
Yamaha is calling the XTO 450 Offshore an update because they're taking some of the best features of the XTO 425 and redesigning some of the internal workings. "We updated it and gave it more horsepower; it's basically breathing better," says Lucy Berg, Yamaha's product specialist for the Marine Development and Planning Division. "We've got larger valves, dual overhead camshafts, and a rerouted exhaust, so we've got better air passages."
That improvement makes for a quieter engine with greater power. The XTO 450 sports a fresher look, such as raised chrome graphics and a restyled back panel, a cleaner, flush-mounted manual flush connection up front, hidden external wiring, and because it has all the bells and whistles, including Helm Master EX, the exclusive TotalTilt trim system, which provides a faster engine tilt full up or down from any position until it reaches the trim rams. A new optional safety feature is the built-in flashing propeller light added to the back of the engine cowling (instead of on the transom) that illuminates when the Helm Master is in SetPoint mode to let anyone in and around the water know that at any moment the prop could turn.
Also Read: Installing a Bow Thruster
The XTO 450 carries forward the 5.6-liter big block V8 displacement, built-in digital electrical steering, and thrust-enhancing reverse exhaust, but the 450 has more charging power through the Phase Angle Control (PAC) componentry, which means the system delivers up to 96 net amps in neutral.
"That's plenty of power for today's popular onboard high-demand devices like gyrostabilizers, air conditioning, and sound systems," says Berg. The PAC is even powerful enough to eliminate the need for an onboard generator and is smart enough to prioritize charging to the starting batteries. The three-phase, simultaneous charging system delivers amps where they're needed most.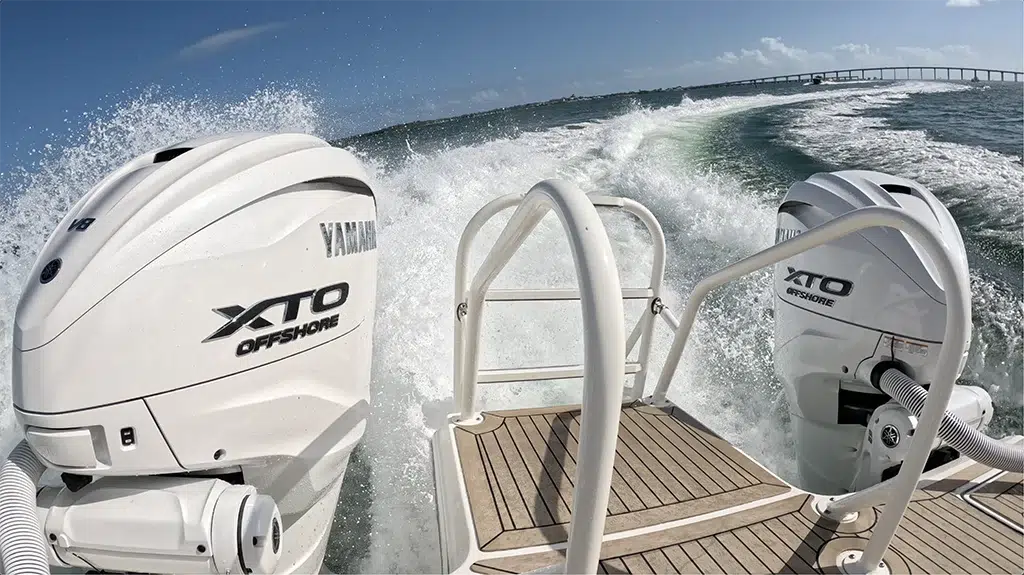 Then there's the noise that outboards are known to create. "The sound of those four-twenty-fives compared to these new four-fifties is night and day. I mean those four-twenty-fives were [loud], and now you can sit here and have a conversation," says Capt. Brandon den Dekker, who was taking us on the test ride in the World Cat 400CC-X. "In our dual console models, because you're so enclosed, you could have the stereo turned all the way up and barely hear it. These are so much quieter."
Den Dekker adds that the shifting on these engines, especially when the Helm Master is in StayPoint mode, is much smoother than the 425s. "It doesn't feel like the engine is going to break," he says. "It was such a hard chunk every time, especially if you have a strong current or something. Now it's a lot smoother and a lot quieter when shifting." He also noted that the speed and fuel economy were better.
Also Read: Yamaha Introduces Upgraded 450-Horsepower XTO Offshore® Outboard
In addition, today's larger boats require a lot of power, and with the 450 XTO Offshore outboard, Yamaha designed a new XTO EC propeller specifically created for when propeller ventilation might be an issue due to the power and torque of the new engine. The prop incorporates an extra trailing edge cup to help the blades hold water longer for better grip, but do some tests to make sure you have the correct pitch for your boat. The XTO EC props also utilize Yamaha's Shift Dampener System to help reduce the shift clunk mentioned earlier, especially at slow speeds. 
Also updated for 2023, the Helm Master EX system now includes an integrated bow thruster control through the Helm Master EX joystick. The bow thruster automatically complements SetPoint functions and helps keep the boat on track when using autopilot functions. Available for twin- and triple-engine configurations, operators can selectively activate this feature to integrate power and operation of the bow thruster and Helm Master EX system through the joystick. Independent bow thruster control remains possible by simply using the conventional bow thruster controls at any time.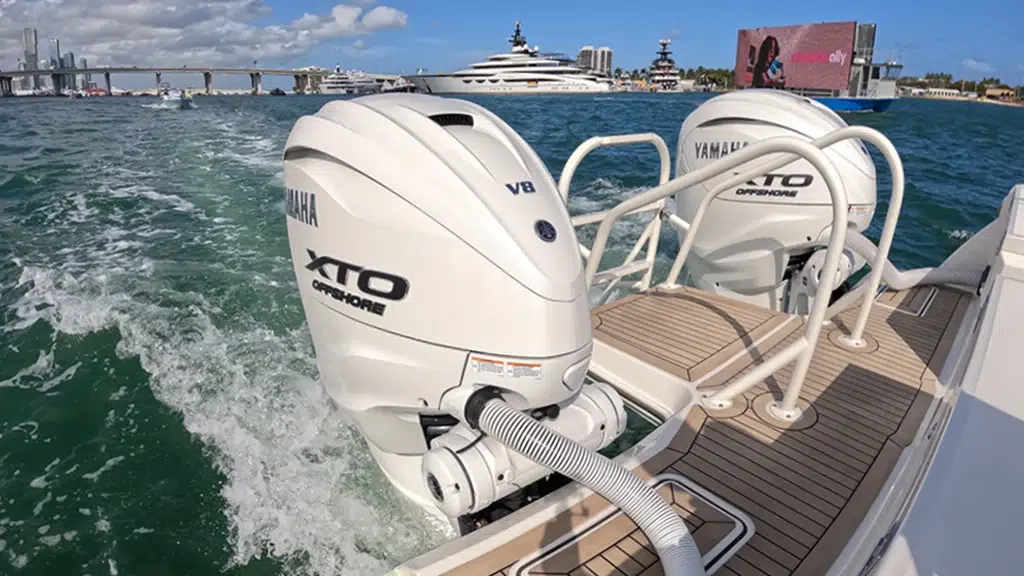 "So what does this all mean for our customer?" asks Berg. "We're trying to make things more convenient obviously, but we're trying to also give our customers more confidence. You don't have XTOs unless you have Helm Master, so when you think of XTO, you think of maneuverability and power, and we want to give our customers peace of mind so they don't have to worry about a messy dock situation. …I'm a mom, I am out there on the boat…if I have an opportunity to use Helm Master on a center console, that makes me feel better because I have to have my head on the swivel with my kids. If I don't have to worry about getting up to the pump at the fuel dock, I feel much better. This stuff is just going to make boating so much easier." yamahaoutboards.com
–by Steve Davis
The post Yamaha's New 450-hp XTO Offshore Outboard: A Quieter, Powerful Evolution appeared first on Southern Boating.