The Dream That Became a Reality
A boating couple upgrades to Marlow Yachts' 70E MKII.
Dreams! We all have them at times. They can help us deal with reality by taking us away for a few moments and putting us somewhere more desirable. For boaters, dreams can place us on a superyacht in a faraway exotic destination or put us at anchor in a tropical paradise watching a blazing sunset, cocktail within reach.
Dream Weaver
Real dreams don't just go "poof" and turn into a reality on their own. They take planning, foresight, determination, and more. Did I say planning? That's exactly what the owners of the newest Marlow Yachts 70E MKII did (MKII is second generation). They did their homework and are now living their dream. 
Unbeknownst to them, this dream started many years ago. As a boating couple, they had seven boats over the 20 years of cruising through life together. Each one taught them the likes/dislikes, dos/don'ts, and finer features they would someday desire. They scoured boat shows to learn as they went, compiled spreadsheets with the data they found, and kept asking questions. For five of those years, they owned a Marlow 62 that "we absolutely loved." So, when shopping for a larger yacht, they kept comparing other brands to their Marlow, eventually deciding to build the Marlow 70E.
Which begged the question: Why a fiberglass hull versus a steel hull? "The Kevlar construction and the strut keels were big selling points, very safe," he says. Of note, Marlow uses its own patented Velocijet strut keels that not only protect the propellers but encases the twin shafts and reduces drag. The owner also explains that they will be doing warm water cruising, so building to an ice class was not necessary. 
Part of their dreamscape is to explore the world. "We plan to cruise a great deal, to the Bahamas and Caribbean, through the Panama Canal, along the West Coast, and eventually, summer in Alaska," says the owner, who is originally from Alaska. Adding onto their list is heading across the Pacific to Hawaii, the islands of Fiji, Christmas Island, and farther.
The owners were also impressed with the fine craftsmanship within the structure, from the joinery, wood finish, and overall layout. Key to the Marlow is that they could customize the yacht to their needs and not be shoehorned into a preset layout. 
Built for Purpose
When you build a long-range cruiser to cross large expanses of open ocean, you have to step up the capabilities, redundancies, and backups. Marlow obliged the requests.
Fuel capacity was increased to 3,700 gallons, thanks to custom fiberglass tanks. The twin 1,200-hp MAN V8 diesel engines were chosen for their fuel efficiency over top end speed. Setting an 8-knot speed, the 70E delivers a range of approximately 3,000 nautical miles, sufficient to get to Hawaii from California. 
If speed is the need, then this yacht delivers. Riding on board to get a feel for the velvety smooth ride and grab some running numbers, the 70E topped out at 25.6 knots wide open. I'm sure the minds at Marlow will squeeze a little more top end out of her when they perform their final tuning. Nonetheless, that is an impressive speed for a 125,000-pound yacht.
Another custom feature (and great idea) are the engine oil containers. Making for easy oil changes, Marlow built two 55-gallon containers in the swim platform for fresh oil and used oil. No more lugging jugs through the crew quarters to the engine room. Oil changes can be performed cleanly, as needed, anywhere. Discard the used oil when back in port.
Even with the twin upgraded 24kW Kohler generators, upgraded Fireboy fire and safety control system (strobe/sirens are mounted throughout), and Yacht Controller remote engine controls, there's plenty of room to get around the engines for fuel filters and ancillary system access.
A mechanical room below the stateroom flooring houses hot water heaters (close proximity to the showers for fast hot water), and pumps as well as additional dry storage space.
Stability and control is from the custom hydraulic ABT TRAC system with oversized stabilizer fins, 50-hp bow and stern thrusters, and windlass. Three hydraulic crash pumps are at the ready, able to ship 240 GPM overboard in an emergency.

From the Top Down
You might think that all of this makes the home comforts play second fiddle, but you could not be more wrong.  
Operational control is from the fully enclosed command bridge, customized with a separate office and day head. As an owner/operator yacht, the husband and wife team will share wheel time but also need to be on top of the navigation and other duties, so why not have an office or nav room right by the helm? This also offers the best seat in the house without being confined to the typical desk setup in the lower master stateroom.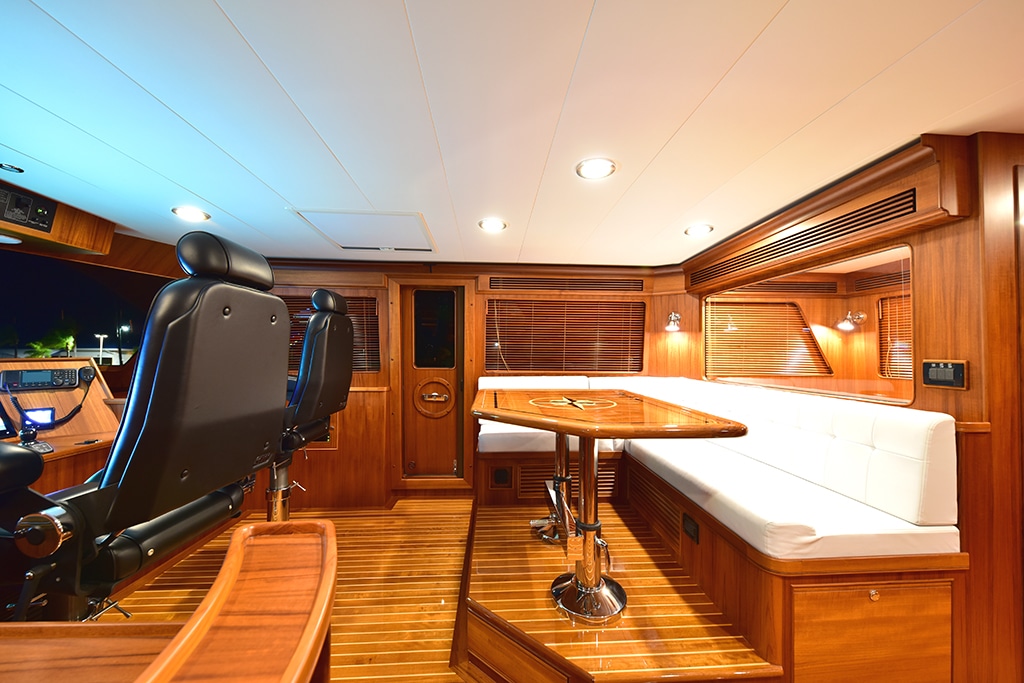 The corner table with L-shaped settee lowers to become a berth, keeping this cruising couple close by during extended night transits.
Garmin electronics is the preferred package, with three multifunction displays at the centerpoint of the helm. A custom interior lighting package with red, white, and blue lights helps to maintain night vision.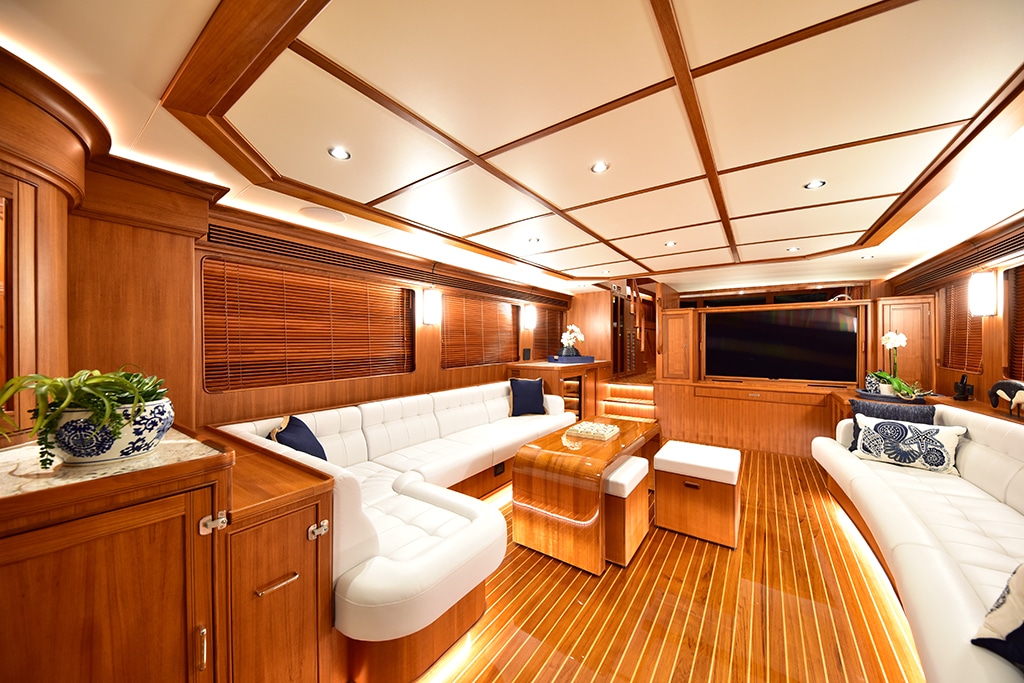 Even with full walkaround side decks, the main deck salon is spacious with port and starboard full-length sofas covered in white Ultraleather. A custom teak coffee table has twin ottomans that store beneath and have removable cushioned tops that flip to trays and offer storage in the bases. A hide-away 65-inch LED TV is forward in the bulkhead.
The owners' big request was a large, workable galley. Planning to be on the hook often or just desiring a home-cooked meal, proper meal prep is mandatory.
Running along the starboard side, there's counter space around the modular sink station, located next to the stove top (with pot holder clamps). Six undercounter fridge/freezer drawers are well suited for provisioning.
The oversized yet walkaround island with customer-chosen granite countertop is centrally located. Appliances are upgraded, including the overhead microwave, lower oven, and two dishwashers. Pantry space is deep and most have pull-out shelves.
Under the forward windshield is a cozy L-shaped settee with teak table. A convenient port-side deck door offers access for provisioning or grabbing forward dock lines. 
As for dock lines, "he" handles those when docking as "she" is commanding the 70E when pulling into slips. A lot of experience is wrapped around this dream, as he has his captain's license and she is getting hers. This couple knows what they are getting into.
The aft deck provides twin staircases to the swim platform, side boarding gates, a large teak dining table, and a transom bench. The foredeck sports a Portuguese-style bridge with access doors from the side decks. Doubling as a fender/line storage box, the center seat is a great spot for catching the sunset and cold cocktail.
Although planned for cruising by the owners, the yacht will have family and friends on board for various legs of their transits and they wanted comfortable accommodations for all.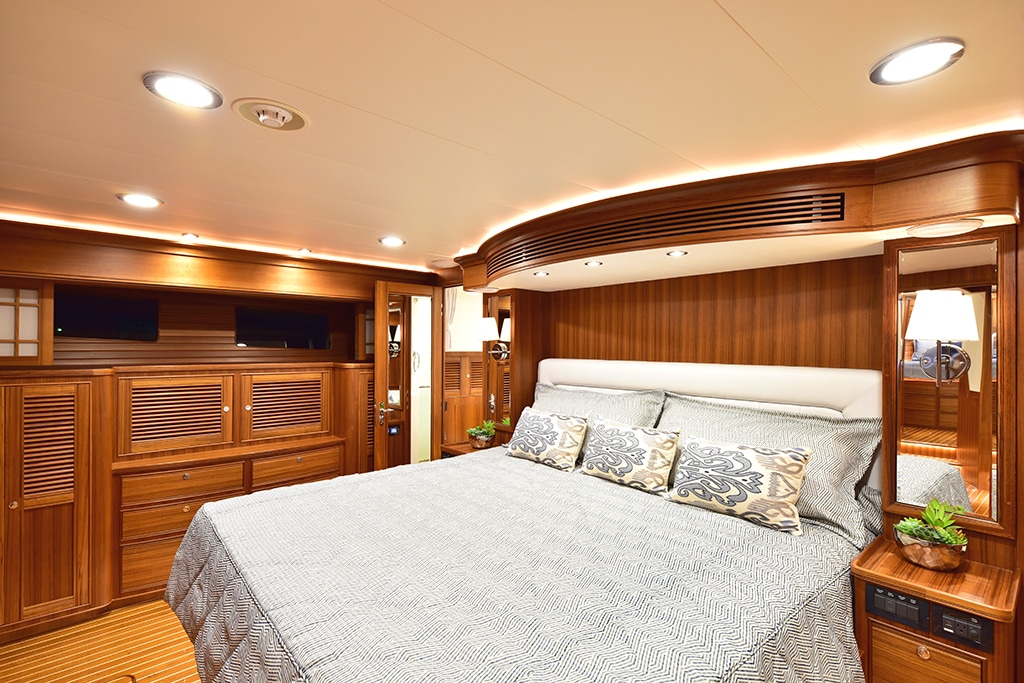 Designed with three staterooms with ensuite heads, ample head and elbow room was key to maintaining the open feel the rest of the yacht represents. Midship is the full-beam master with a king berth, his-and-hers private heads with a large center shower stall, and tons of walkaround space. Full-size port and starboard drawers, closets, and lockers provide maximum clothing storage.
Adding to the accommodations is a forward VIP and starboard twin-bunk guest stateroom, both with heads and shower stalls, storage, and TVs.  
More Niceties
To support their extended cruising plans and range, other customized components were included, such as a storage room on the aft deck for fenders, lines, and cleaning gear, nicely sized aft crew quarters that can double as storage, custom drawer latches and hardware, and diesel heaters for cabin heat. With an oyster-white hull, this 70E stands out from all angles.
Marlow has built other 70E models, with an open flybridge (enclosed on three sides), lower helm station, resized galleys, 220v service for European owners, larger engines (1,800-hp) for speeds of 30-plus knots, and more. 
"It was such a positive experience through the build process," say these owners regarding Marlow's desire to deliver their dream yacht. "They are above a ten, two thumbs up. The Marlow is an exceptional value for the buck. We would buy another!"
And that may be where your dream begins. 
-by Tom Serio