Dive into the Bahamas
Explore a stunning world beneath the turquoise waters.
There are so many diving opportunities around the 700 islands that make up the Bahamas, it would take weeks for the most experienced divers to explore. Fortunately, you don't have to cram it all in one trip.
Divers of all skill levels, even snorkelers, will enjoy the warm, turquoise waters that surround reefs, caves, and shipwrecks. From shallow dives for spearfishing to freediving that challenges divers to see how deep they can go holding one breath, water temperatures are very comfortable year-round; in the winter, temps rarely dip below 70 degrees Fahrenheit. The temperature will drop the deeper you go, so some divers prefer a 5mm exposure suit during the winter while wearing a 1mm suit in the summer.
Whether you're new to diving or want to advance your skills, diving professionals and companies are located throughout the islands to help you make the most out of your diving experience.
Stuart Cove's Dive Bahamas
Stuart Cove's Dive Bahamas is a well-known dive center on the southwest side of New Providence Island. As a PADI five-star facility, it offers a full range of education programs, equipment selection, and diving excursions. 
"We have reefs and walls that start at 40 feet and drop to 1,000 feet," says Stuart Cove, whose background includes being a stunt/safety diver on the James Bond film For Your Eyes Only and as underwater coordinator on another Bond film, Never Say Never Again. Stuart Cove's Aqua Adventures in Nassau consists of Dive Bahamas, Snorkel Bahamas, and SUB Bahamas.
"There is an abundance of life including reef sharks, groupers, jacks, eagle rays, and stingrays, and multiple wrecks are also accessible," he adds. "The Bahamian government has done an excellent job with conservation on the island as there are several marine parks established to help preserve the reef and the underwater life."
The joys of diving in New Providence are obvious to any diver due to the water temperature and spectacular visibility. The dive sites are easily accessible and only several minutes from the dock. stuartcove.com
Neal Watson's Bimini Scuba Center
Neil Watson Jr., a certified SCUBA diving instructor, runs the Bimini Scuba Center located at the Bimini Big Game Club Resort & Marina. The facility offers different packages, including a dive with several shark species.
The winter months are the best time to interact with these ocean predators, such as great hammerheads, nurse sharks, and bull sharks. Watson and his crew bait the water to draw them in, using special measures to ensure a safe interaction for the divers. When diving with sharks, it is very important to wear neutral colors. Sharks can see contrast well, so a bright color in murky water will be visible to them.
"Bimini is located on the edge of the Gulf Stream and currents can be strong," says Watson. "Currents are good as they regulate nutrients and water temperature which keep the ecosystem healthy." 
Bimini also offers wrecks, walls, bright corals, and dolphin swims. SCUBA diving trips to Tiger Beach on West End, Grand Bahama, are available in season as well. Two-night to weeklong dive and hotel packages are available. biminiscubacenter.com
Bahamas Underground
Bahamas Underground specializes in cave and technical diving and offers training and guided tours. Based in Marsh Harbor, Abaco, co-owner and operator Brian Kakuk, who has more than 30 years of diving experience and is a former U.S. Navy Diver with more than 4,000 exploration dives, focuses on exploring the Crystal Caves off Abaco. 
His preferred method for cave exploration is to use a standard side-mounted open circuit configuration, a growing setup for cave divers. Accident analysis is a priority during training sessions with a focus on gas supply and a reliable guideline to the surface. All divers visiting the caves are required to have their own specialized equipment, a nitrox certification, and a minimum of 100 dives. 
"Cave diving is hazardous but very rewarding," says Kakuk. "I have dived all over the world, and these are the most decorative caves on the planet."
He is so passionate about what these caves have to offer that he founded the Bahamas Caves Research Foundation, where he works with the Bahamian government to do further cave research.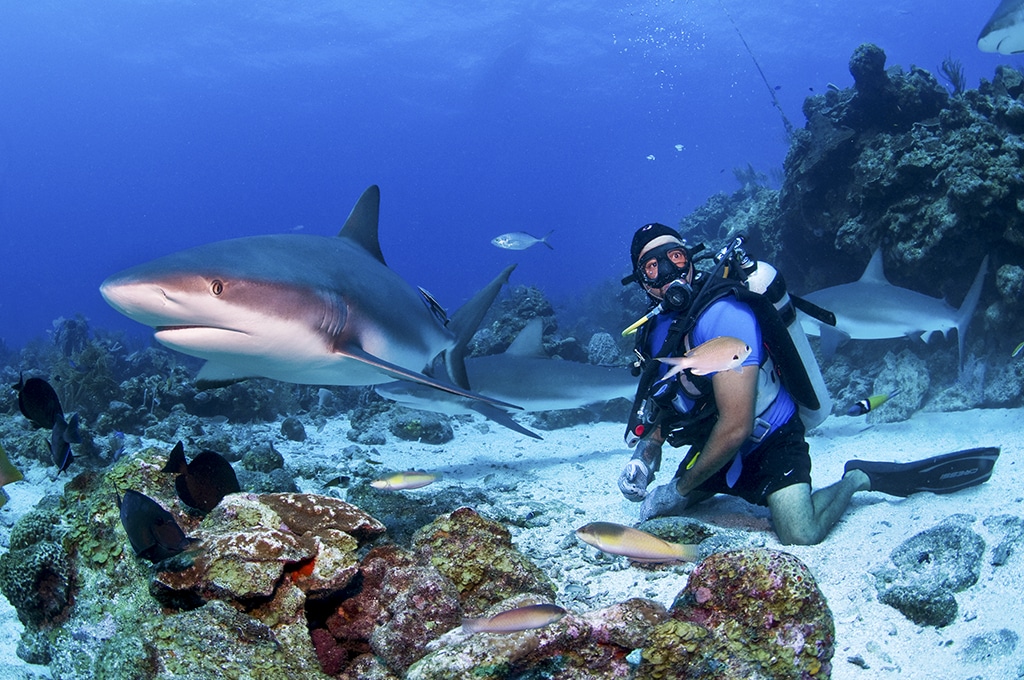 Cristina Zenato
Learning how to dive in the Bahamas more than 25 years ago, Cristina Zenato is a professional worldwide SCUBA diver and shark behaviorist as well as an instructor for handling sharks, technical and cave diving, and instructor ratings. She is based in Freeport and takes divers on excursions to interact with reef sharks. 
"The trips involve a full understanding of diving with the animals to include safety of the guests, safety of the staff, and safety of the sharks," she says.
Zenato works with the Bahamian government and has helped create a full shark sanctuary for the animals in the area. "My guided dives involve one-on-one interactions with the animal, so it becomes a very personal experience for the diver, who may then decide to become a shark ambassador," she says.
Zenato is able to identify individual sharks from specific features on their bodies (such as marks or a bent dorsal fin). Because she has spent so much time in the water with these sharks, this type of guided interaction will make this experience memorable. cristinazenato.com
Ocean Fox Dive Center
Some of the best SCUBA diving in the Bahamas is off the island of Eleuthera, and Chad Sinden, a PADI award-winning instructor with more than 7,000 dives and owner of Ocean Fox Dive Center at Cape Eleuthera Resort & Marina can guide you to the perfect spot. The dive sites are all as close as 5-10 minutes from the dock and range from shallow reefs to a wall drop that begins at 60 feet and descends to 2,000 feet.
Local experienced diver Forrest Simon describes the coral as pristine because of the nutrient-rich water being brought in by the currents. The shark population is healthy for this reason and why guided shark diving is popular. 
"The wind direction is generally from the east, and the dive sites are located on the leeward side of the island, which makes conditions mostly calm and ideal for diving," say Simon. "The current can be an issue sometimes, so it is important to be aware of conditions before beginning a dive." oceanfoxdive.com
Freediving – Vertical Blue
Anyone interested in freediving might know acclaimed free diver William Trubridge, the world's deepest-diving man, having dived unaided on a single breath to a depth of 334 feet. He is also the founder of Vertical Blue, the most prestigious freediving event in the world held annually at Dean's Blue Hole on Long Island in the Bahamas.
"Sixty world records have been achieved at this event," says Trubridge. "It is the only place in the world where you can dive in such bright blue and clear water. For freediving, it is ideal due to the conditions—no currents, no swell, and shelter from the wind. The experience can be described as diving in a two hundred-meter-deep swimming pool, allowing the free diver to completely focus on performance." 
Trubridge offers freediving courses for those wanting to see how deep they can go on one breath. williamtrubridge.com
Spearfishing
When spearfishing in the Bahamas, one of the main concerns is sharks. The scent of blood and the thrashing vibration from a speared fish attracts them. When you shoot a fish, it is crucial to get it back to the boat as quickly as possible and hold the speared fish clear from the water until you have reached the boat.
Always dive with a buddy when spearfishing. All trained freedivers know the importance of diving with a partner to avoid hypoxia complications that can be fatal if diving alone. Freediving is strenuous and when spearing, the diver can focus more on the catch than their own safety.
The waters in the Bahamas offer a rich variety of harvests that include lobster, grouper, snapper, and hogfish. Avoid eating large fish like barracuda which can result in ciguatera poisoning from contaminated fish.
Be aware of the laws when capturing fish, such as seasons permitted, size of catch, and numbers allowed. Go to bahamas.gov.bs for information about permits and regulations. Only a Hawaiian sling or pole spear is allowed when spearing in the Bahamas, and all dives to harvest must be breath hold only.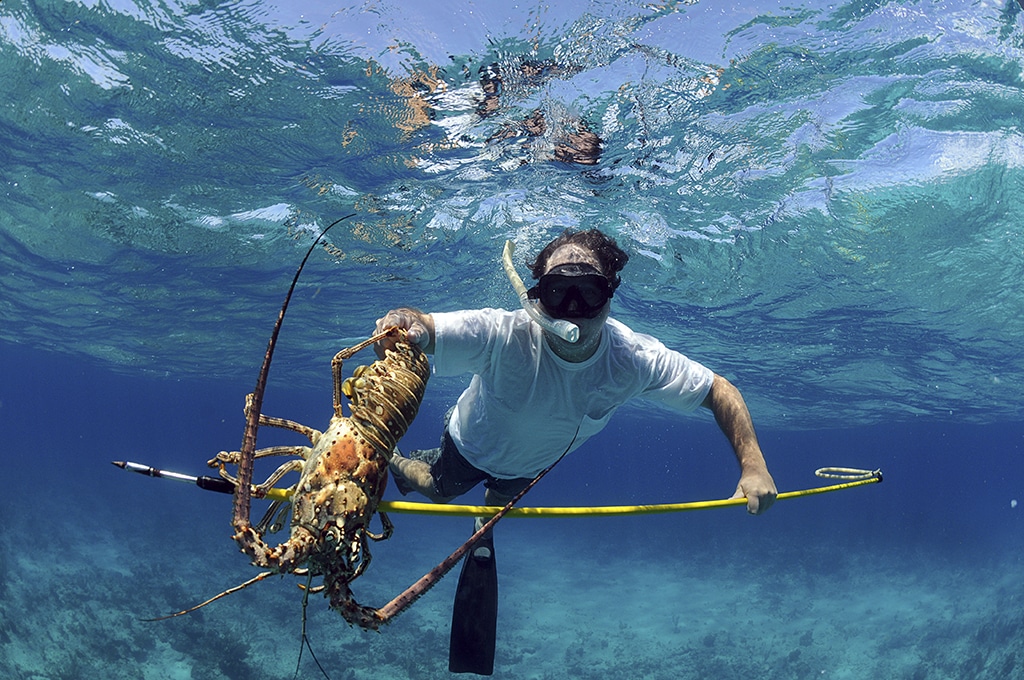 Have Fun!
There are a number of dive shops throughout the Bahamas, so when you're ready to explore a new area below the surface, consult a local dive professional to help you enjoy the wealth of underwater life safely. 
-by Elisa Buller