Bahamas Marinas are Building Back
Serious improvements and renovations are proceeding at many Bahama marinas and to start the update, here are four well on their way.
Bimini Big Game Club ( See Featured Image)
Preparing for a crazy summer season, the Bimini Big Game Club marina's upgrades include two new T-head pedestals, new ice machine, and improved Wi-Fi distribution. A new saltwater pump at the fish cleaning table is installed and around the pool, more chaise lounges and umbrellas are available.
The Bimini Big Game Bar & Grill has added new Special Dining Days, including a Friday Bimini fish fry, Saturday night prime rib special, Sunday lobster dinner, and Taco Tuesdays. Sharkies, next to Neal Watson's Bimini Scuba Center, is open daily (with new expanded roof for more shade and cover), and the new Hemingway's poolside Rum Bar Club opened June 1st.  biggameclubbimini.com 
Bay Street Marina
Undergoing a major expansion at its Nassau Bahamas location, Bay Street Marina has added 30 new slips for a total of 120. The new docks can accommodate vessels up to 500 feet in length with a 22-foot draft. Fuel service is now available at RUBIS fuel dock at Dock D.
Each slip is equipped with fresh RO water and electrical service from 30-amp power to direct 480v feeds. Wi-Fi capabilities have improved as has a CCTV system with 24-hour security to ensure the safety of vessels and property. Bay Street Marina has an on-site swimming pool, air-conditioned restrooms and showers, laundry room, crew lounge, fish cleaning station, BBQ grill station, and the on-site Green Parrot bar and restaurant. baystreetmarina.com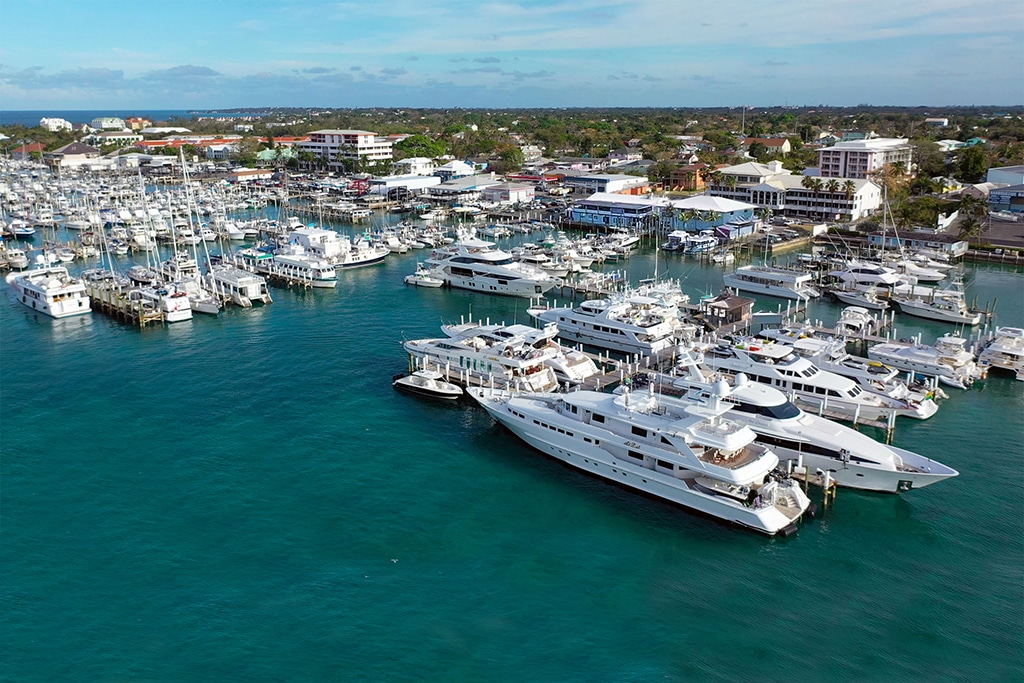 Nassau Yacht Haven
Nassau Yacht Haven is the oldest continuously operating marina in the Bahamas at 74 years. In 2018, the marina took new ownership under a 9th generation Bahamian maritime family keen on embracing the marina's history while upgrading it to modern amenities.
The marina sports a new state-of-the-art Cybex Gym with the latest machines, and the new two-story Crew House Bar & Lounge capable of hosting large events from its 360-degree view of Nassau Harbour. A brand new dockmaster's office has been relocated for better dock monitoring and safety, and the docks now have three new lounges over the water for guests and crew to socialize, read, or nap in shaded hammocks and lounge furniture. A state-of-the-art, in-slip Wi-Fi system is installed as are electric pedestals with up to 480V 200A power, high pressure UV and membrane filtered water, new gates, 4k infrared cameras, and 24/7 manned security. nassauyachthaven.com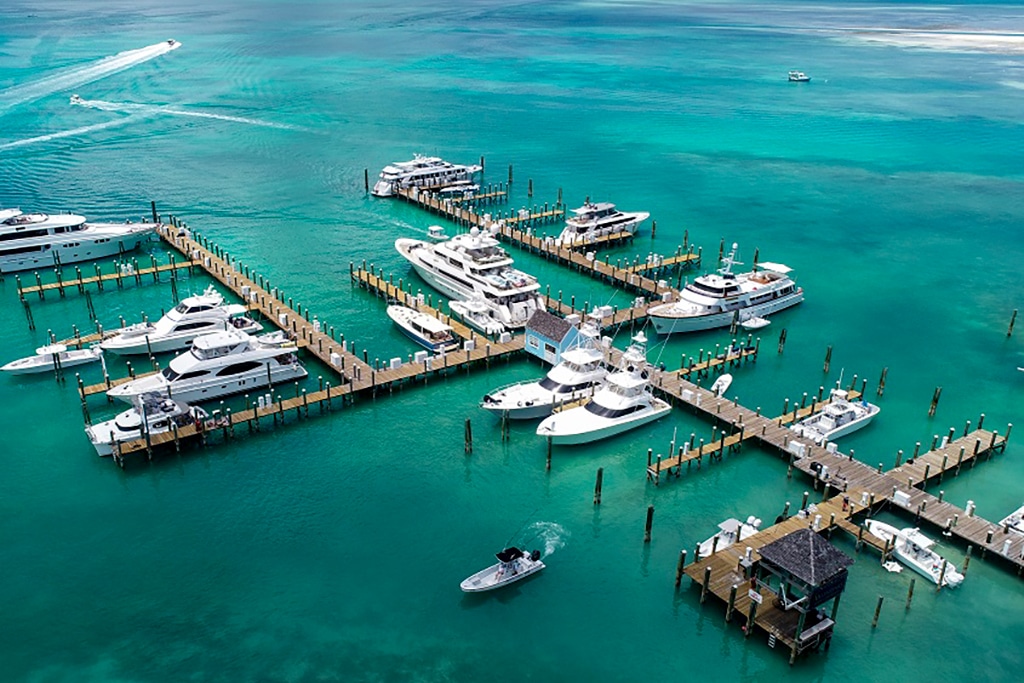 Valentines Resort & Marina
Located in the heart of Harbour Island, Valentine's Resort & Marina is replacing the entire electrical infrastructure on the docks, including new power pedestals and transformers. The docks will receive new decking and planking. A substantial amount of the work has already been completed and the remaining projects are planned for completion in September 2022.
Valentines has already opened their new saltwater pool and is in the process of replacing the chaise lounges and beach umbrellas at Valentines' private section of Pink Sands Beach. valentinesresort.com