Tips for a
 

Successful Charter
Dos, don'ts, and simple steps to a great boat vacation
There's no vacation like a boat vacation, so if you want to spread your wings and explore new territory, consider chartering. Powercats have made great inroads into crewed and bareboat charter in the past few years, so there are lots of options these days both in terms of the vessel and the destination. Let's look to help you pull off a perfect power charter in enticing ports around the world. 
First, we'll discuss some crewed yachts, but mostly bareboat charters where you take the wheel and the responsibility. Second, you can charter independent monohull boats for fishing or cruising just about anywhere via a peer-to-peer service like Boatsetter, but we're going to focus on large charter companies that offer multiple models and destinations. Almost exclusively, these organizations work with powercats for their room, stability, shallow draft, and fuel economy. 
Start by asking yourself some questions.
Crewed or Bareboat Chartering?
Decide what kind of vacation you want. If navigating, anchoring, cooking, and managing all systems aboard sounds like work when you'd rather relax, go with a crewed charter. Hire a captain who will relieve you of the burden of command like running the boat, or hire a team that includes a chef and have a posh experience with nothing to do but enjoy. 
Alternately, you can charter a bareboat where, for better or worse, you'll oversee everything. A bareboat is less expensive than a crewed charter, but you'll need some basic boating experience and since most powerboats in charter are catamarans, you should know how to drive one so you can dock. 
If you're not sure which to choose, go with a hybrid approach. The chartering company will provide a captain for a day or two to show you the ropes and then you take it from there. This is easier in small cruising grounds where the captain can disembark and get back to base easily—like the British Virgin Islands. 
Where Do I Want to Go?
Most power options can be found in the Caribbean and some parts of Europe. If this is your first charter, pick a location like the BVIs to start—the navigation is easy, the winds are steady, and there's a lot to do ashore (restaurants, bars, shopping).
Chartering Itinerary planning is critical. First, you need to choose a place that will work for your crew. Are you looking for the tropical bar scene, history, shopping, seclusion? Does your crowd want to snorkel in the Exumas in the Bahamas or walk the city of Dubrovnik in Croatia? Some areas are more challenging for a skipper than others. The tiny Sea of Abaco can be crisscrossed in two days, but island hopping in the Greek Cyclades means long distances, lots of Med mooring, and possibly choppy seas. Kids, older folks, and the those prone to seasickness will appreciate a charter with small hops, shorter airplane rides to get to the destination, and fewer COVID restrictions.
No matter where you go, don't overplan the itinerary. On a crewed charter, the captain will most likely already have a route, but you can ask to offer input. If you want to go diving on the wreck of RMS Rhone in the BVIs, for example, make sure to request extra time in the area. 
If you're creating the float plan yourself, remember that less is more. A packed itinerary isn't a vacation, it's a chore, so don't try to exceed 20-30 miles of distance or 2-3 stops per day. Stay flexible and take each day as it comes which makes room for spontaneity that can be the highlight of the trip.
Most charter companies will post typical itineraries online, and you can add your own flair. Do the loop backward or offset it by a day because every other charter boat will be headed to the same destination on the same day. By backtracking or skipping one place, you may be able to get away from the crowds and have a better experience.
When Do I Want to Go?
Shoulder season offers more boat options at lower prices, smaller crowds in restaurants and anchorages, and an easier pace to enjoy the destination and its people. Shoulder season in the Caribbean is late May to July and early November. August to October are no-go times because it's hurricane season. Shoulder season in Europe is May and October, and the no-go time is August when everyone is on vacation, harbors are packed, and the locals get understandably surly. 
Ask the charter company about shoulder season specials like 10 days for the price of seven. When you're not chartering during the peak, you also have a better chance of being upgraded to a bigger or newer boat. 
Want more info on chartering? Check out our Beginners Guide to Chartering a Yacht
What Should I Expect on the First Day?
The first day of a charter can be frustrating with lots of bureaucratic details and waiting. Crewed charters will usually give you a time to board, but you still must check in with the office, complete last-minute paperwork, and meet with the captain to set expectations (both yours and theirs). 
When bareboating, you'll need to provide passport and arrival/departure information and complete any health visas, insurance waivers, and COVID testing. You'll also have to provide your boating resume (some companies have an online form to complete), and give the crew a list with the names, ages, and passport information of all guests.
On a bareboat, you must attend the chart and technical briefings although some charter companies offer them pre-recorded with online videos that make things somewhat faster. Even if you try to learn everything via video, make a list of questions to ask in person at the base before untying the dock lines.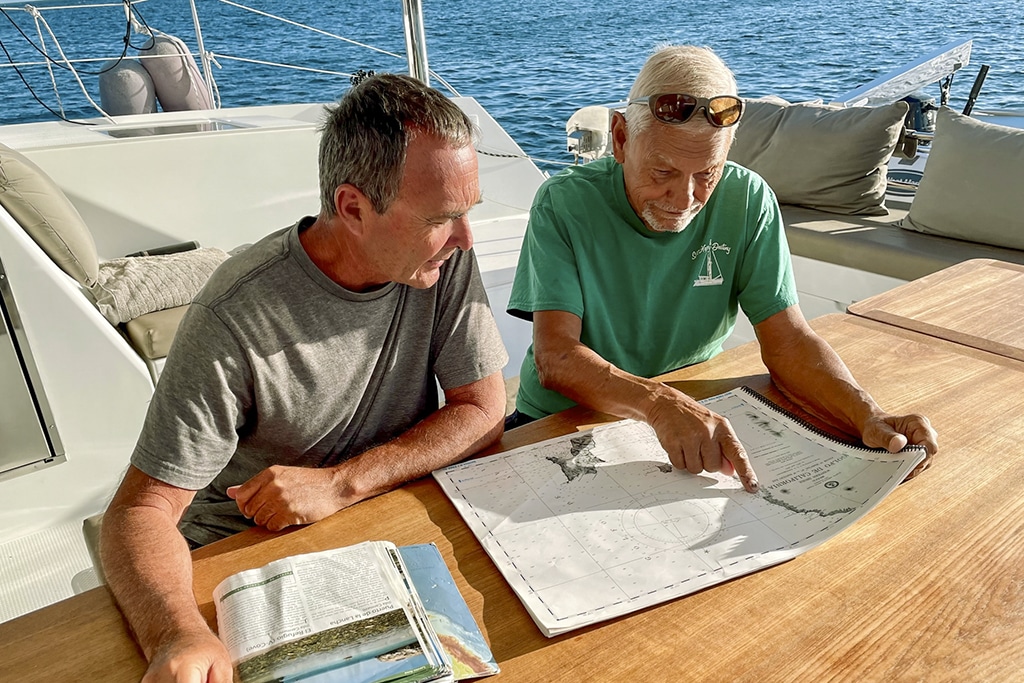 During the chart briefing, you'll find out about local tourist highlights, how and where to catch (or reserve) moorings, how much they cost, and if you pay with credit or cash. You need to learn about shoal areas and where to get weather information. Listen for special warnings about unmarked hazards, underwater cables that could snag an anchor, temporary closures, and the location of fuel docks. Base personnel also often have the best tips on where to go, what to avoid, and where to eat. 
The technical briefing teaches you about the boat. Even after watching a video, lean on the base staff to show you all the systems and how they work because as captain, you'll be responsible for managing water, power, and waste aboard for the duration of your vacation. Make sure you understand how to start the generator, monitor batteries, change water tanks via the manifolds, run the dinghy, and operate the electronics. Use your phone to record the information of a live briefing or bring a friend for a second set of ears because the details come fast. 
Examples of where you should focus include: 1) Checking that the chartplotter information is in English and in units you're comfortable with like feet. 2) Asking about any offset in the depth reading so you know whether the instruments calculate from the waterline or from below the keel. 3) Turning on the VHF and making a call to another boat. 4) Learning the size of fuel and water tanks and knowing where the fills are. 
In the galley, ask personnel to show you how to start the stove, and see if there is a breaker on the panel as well as a solenoid switch. Lift your propane tank to see how full it is, and make sure you have tools to switch propane bottles if needed. Is the barbecue gas or charcoal and do the fridges work?

How Do I Provision?
On a crewed charter, the chef will contact you ahead of time with questions about preferences and allergies. Don't ignore this request for information. Also, stipulate how many meals you'd like to eat ashore to help them plan.
Provisioning a bareboat charter means you'll be stocking the boat. Most charter companies will provide a list from which to choose and will deliver the food on the first day or you can shop on your own for better prices and more options. Beware, however, that stocking a week's worth of groceries isn't something that one person can manage, and it takes a lot of time. 
If you're working with the charter company, choose "partial provisioning" that allows you the flexibility to eat off the boat at restaurants. A rule of thumb is to provision 3-4 dinners on the boat if you have people who like to cook. If the group is all about dining out, provision just breakfast and lunch groceries for the week. 
If you'll be cruising in hot climates, provision about a gallon of bottled water per person per day. Most people don't drink the boat water because they have no idea where it came from or how long it's been in the tank. Choose one-gallon bottles that are easier to store and pour into individual reusable water bottles.
Always provision less than you think you'll need because most boats come back with lots of food. Plan to eat on board on the last night to use up what's left. 

Don't Forget the Details
If you're new to chartering or your own boat is smaller or less complex, don't opt for a giant powercat that may be intimidating to drive and have loads of advanced systems. If you'll have kids aboard, plan for their safety and entertainment. Bring games and rent water toys like kayaks, SUPs, and snorkel gear on-site. Take a day before or after the charter to explore beyond the boat.  
Whether you're seeking treasures on the islands of ancient Greece or tucking into a lobster dinner in the BVIs, a boat vacation opens new worlds that you just can't experience when you stay in hotels. Best of all, once you get this power chartering thing down, you'll have lots of options without ever needing to learn to sail. Enjoy! 
Read More:
Beginners Guide to Chartering a Yacht
-by Zuzana Prochazka
The post Tips for Chartering a Yacht appeared first on Southern Boating.