Distinctive Flair
The new Scout 377 LXF adds more luxury and technology to the S-Class family.
The first thing I noticed about the Scout 377 LXF is the profile. There's no mistaking that Carolina flair that sweeps down from bow to stern. The boat whispers with confidence, "Don't worry, I can handle rough seas." 
"It keeps the deck really dry," says Len Renné, president of Seven Seas Yacht Sales in Fort Lauderdale, Florida. "Even in the Intracoastal when it's like a washing machine, you won't see people sitting in an open bow, but you will in a Scout because they're not getting wet."
Step Aboard
The Scout design is distinct with its sheer line settling evenly just aft of the helm that creates a comfortable level cockpit coaming for fishing or for entertaining. I'm looking at the new 377 LXF  (there's a fishing and sport version), and as I step aboard through the port-side dive/tuna door, it's easy to see the cockpit is nicely set up for either activity. It's not overly huge, but cozy with an aft-facing bench molded into the back of the helm seats (with two inductive phone charger holders) and a large, centerline, slide-out cooler with a seat cushion tucked in the transom.
Whether fishing or entertaining, a summer kitchen is a must when boating, so atop the slide-out cooler under cover in the transom is an optional grill along with a cutting board and sink. If an owner decides to forgo the summer kitchen, a comfy forward-facing bench seat with a large cooler underneath is standard.
Anglers will appreciate the port-side lighted, aerated baitwell with clear top and frontside to check on bait without opening it. Swimmers will enjoy the starboard transom walk-through door opening onto a fully walkable swim platform with Esthec decking and a built-in swim ladder. There's plenty of room because the engine rigging is out of the way, neatly cabled within flexible conduit for a clean look, no connections to accidentally uncouple.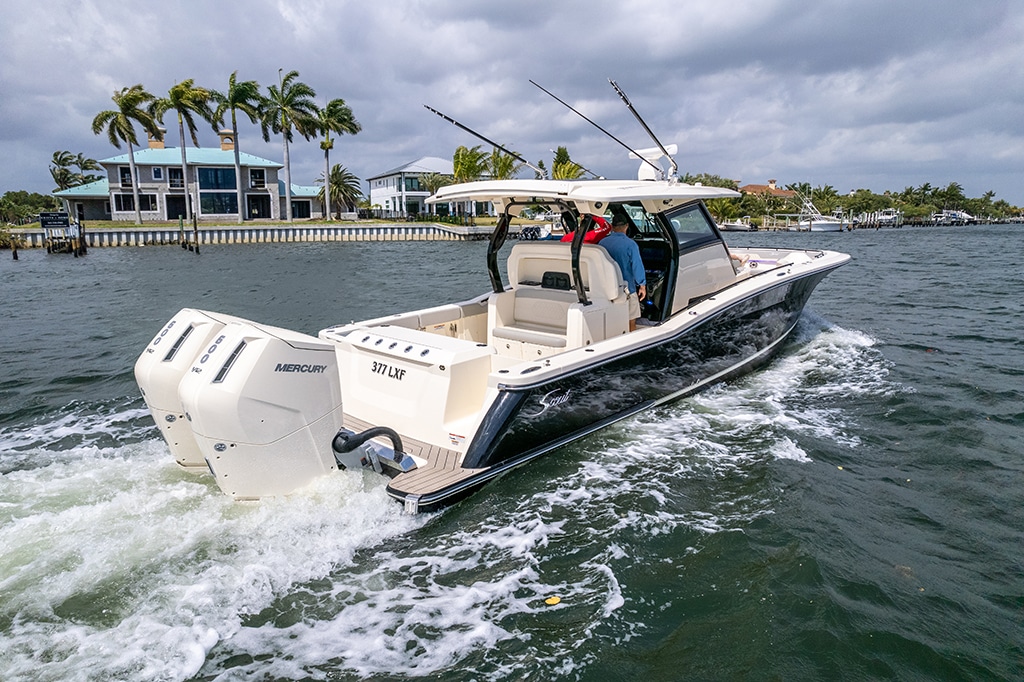 While we're on the swim platform, this model had twin Mercury 600-hp Verados, but triple Mercury 400-hp Verados are the standard setup. "It works really well with the six-hundreds," says Renné. "It's amazing, the power, but the nice part when you're fishing is when you have three or four motors back there and you're dragging lines; you usually have to cut two motors off because you get so much whitewater back there. These have very little slip, so the wash behind you is almost clean water. The fish can see your baits pretty well."
Back in the cockpit, I notice that the hardtop protects the aft-facing bench completely, so to continue coverage back to the transom, an electrically retractable SureShade is an option.
Scout designed the new 377 LXF as a luxury center console that blends performance, style, and innovation for a comfortable ride that is functional and has all the conveniences for today's families. This model can easily fit the "crossover" description, but as Renné says, "I would say we cater a little bit more to the families, and the wives, and keeping them happy, but it's a die-hard fishing boat if you want to die-hard fish it. However, we've got a lot of amenities on here to keep everybody happy."
Want to see more Scout Boats? Check out the Scout 530 LXF
At-Home Comfort
The 377 LXF is part of the S-Class family, Scout's highest level of luxury. Beyond the carbon-epoxy construction and Scout's highest-performing, dual-stepped hull technology, the systems, the electronics, even the upholstery show an air of sophistication. 
From a technological point of view, one creature comfort is the Zipwake trim-control system to control pitch and roll when underway. Add to that the optional Seakeeper 3 stabilizer system, and you have a stable ship for those with an inclination to seasickness.
Solar panels come with it to help keep the system charged up, but it's the innovative lithium-ion battery with battery management system that really does the trick. It eliminates the need for a generator as well as the noise that goes with it when at anchor. There's also plenty of power for the air conditioning, electric grill, lights, stereo, and TV. 
"It'll invert to one-ten and has solar panels on the roof, so you really don't even have to plug the boat in," says Renné.  "…The boat does have shore power and it will charge everything and keep everything running, but basically all you're running is a battery charger. …This is the largest model Scout has done without a generator, and it's working well."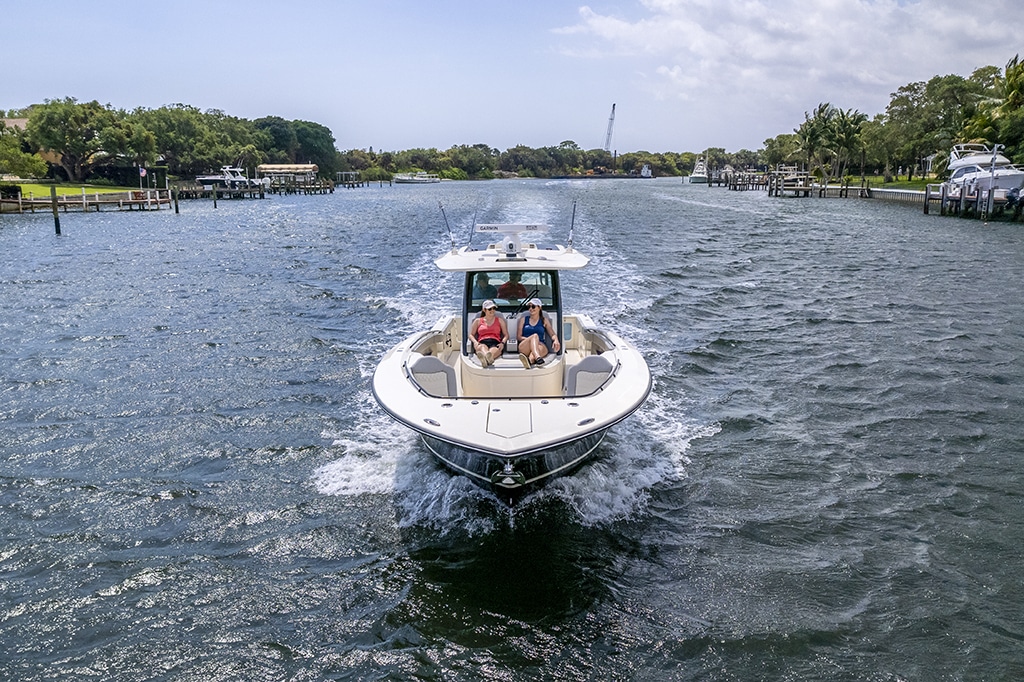 At the bow, the comfort level comes in the form of two lounge seats with molded back/head rests port and starboard and a large centerline lounger with armrests ahead of the console. As with most seating, there's an abundance of storage underneath, and one cool feature is the optional electric Esthec dinette that lowers out of the way into the deck, lifts to seat height to make a sunpad, or extends up to table level. Cupholders, stereo controls, charging ports for phones, and the optional Med-style canopy complete the perfect area for socializing and relaxing.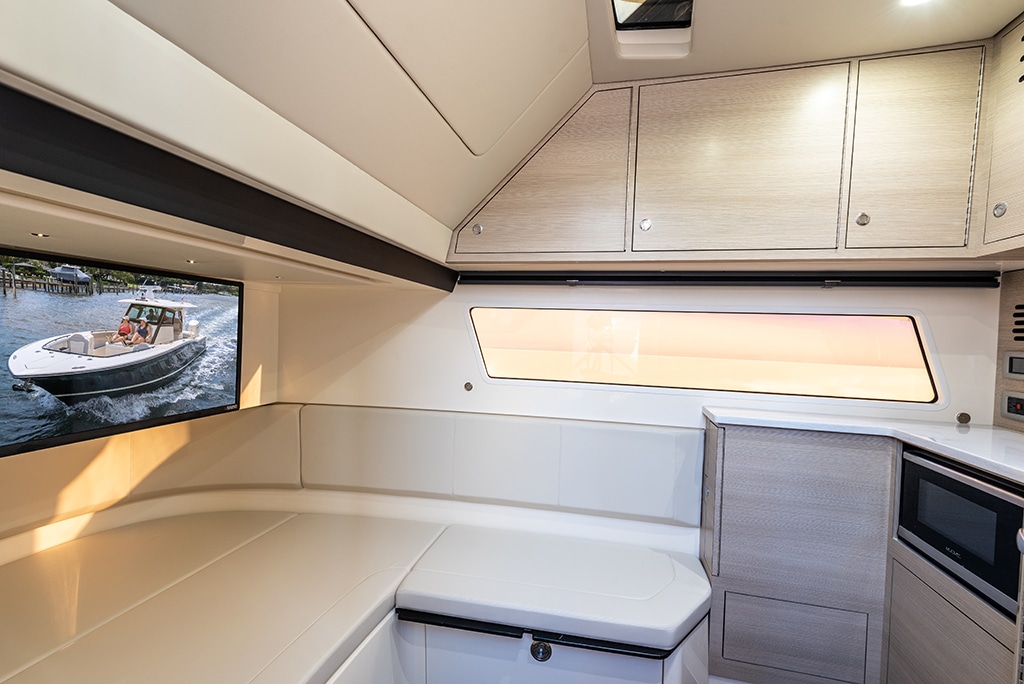 Then there's the spacious cabin below for weekenders or a quiet spot away from the action. There's room to seat four around a side-mounted table and with the filler cushion, the space quickly turns into a lengthy double berth. A 32-inch TV is standard, as is a six-gallon water heater in the head that makes the built-in ceiling rain shower a refreshing way to clean up and warm up, even if you're taller than six feet. There's a small counter area with a microwave along with air-conditioning and heating controls and sound-system controls. The electrical panel here is easily accessible and protected from the elements. 
"You can put the kids down here and let them play games or whatever, and from a couple's perspective, you've got plenty of room," says Renné. "It's a great little island-hopper. We have a lot of customers that might sleep on the boat for two nights and get a hotel one night, but most of them find it's pretty comfortable." 

Comfort carries on in the design of the helm. The helm sports three heated seats with flip-up bolsters that face a dash with a centerline wheel and all the controls within easy reach. Two Garmin 8612 displays are standard, but this model was decked out with the three Garmin 8616 displays as well as the optional radar and FLIR camera setup. In front of the wheel sits the VesselView diagnostic display with a wireless phone charger to port and the Zipwake control panel to starboard.
Another cool feature on board is the anchor camera that displays at the helm. The anchor is out of sight under the bow, so a camera is installed just below it. 
"When you drop it, you can see your scope and how much anchor you've got out," says Renné. "And then when you pull it up, you can see it coming in and when you go to leave, you can make sure there are no swimmers underneath the bow." 
The Scout 377 LXF checks a lot of boxes that not only give the basics for fishing, entertainment, and family fun, but does it with luxurious style and sophisticated technologies. The S-Class is Scout's most superior line, and the new 377 LXF fits like a glove.  Scout Boats Website
-by Steve Davis