Treasure Hunt
Florida's Treasure Coast is a hidden gem.
Tangerine and cotton candy-colored clouds billow along the horizon creating the perfect backdrop for this laid-back, picturesque Florida region. Tucked along the Atlantic Coast just north of Palm Beach, the Treasure Coast comprises Martin, St. Lucie, and Indian River counties. This hidden gem is a wondrous destination filled with family friendly fun, unforgettable experiences, and more than 60 miles of beaches on which to surf, fish, or just relax.
The Treasure Coast got its name from the 1715 Spanish treasure fleet sunk by a hurricane while returning from the New World to Spain. The fleet's gold, silver, and jewels were scattered over the seafloor, and though much of the booty has been recovered, snorkelers, divers, and other fortune-seekers continue to search the water for treasure today.
The coast is lined with sandbars and barrier islands that protect the numerous bays, rivers, and lagoons, such as the 156-mile-long Indian River Lagoon which contains five state parks, four federal wildlife refuges, and a national seashore. Lake Okeechobee, the largest freshwater lake in Florida, is connected to the lagoon by the Okeechobee Waterway and the St. Lucie River meeting in Sewall's Point. 
"The Okeechobee Waterway is a cross-Florida navigable waterway connecting Florida's Atlantic Coast to its Gulf Coast at Fort Myers," says Ed Killer, outdoors writer for TCPalm.com. "There is a series of locks to carry boats through the waterway, the most dramatic of which is the St. Lucie Lock and Dam in central Martin County which is fourteen feet. Pass through the locks to enjoy a unique boating experience."
Check out the Stuart Boat Show happening Jan 13-15th.
A Good Sport
Being on or near the water is a way of life on the Treasure Coast. From boating and water sports to diving and fishing, there is something for everyone.
"Boating is truly in the DNA of this coastal community and has been for decades," says Charlotte Bireley, director of tourism and marketing for Visit St. Lucie. "Fort Pierce is also home to boat manufacturers that churn out top-tier boats of every size, shape, and model. World-class boat makers, including Pursuit, Maverick Boat Group, Bluewater Sportfishing, and Twin Vee PowerCats, make their home in Fort Pierce, which means boating enthusiasts have the industry's best at their fingertips."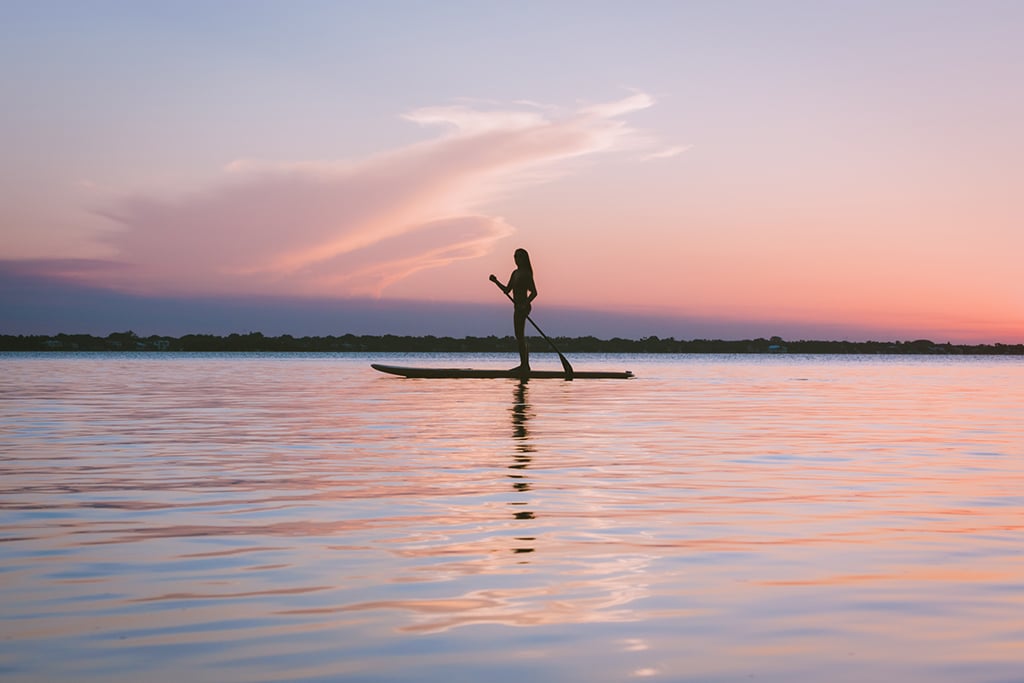 Enjoy stand-up paddleboarding? Tour operators from Zeke's Surf and Paddle Sports (zekessurfandpaddle.com) in Stuart and Paddle the Pointe (paddlethepointe.com) in Jupiter offer guided experiences throughout the area's waterways. There are plenty of places to rent kayaks and canoes for a self-guided excursion, and for those who snorkel or dive, a range of dive shops lead excursions and offer classes for certifications, such as Dive Odyssea (diveodyssea.com) in Fort Pierce. 
Numerous charters specialize in offshore, inshore, saltwater, and freshwater fishing experiences. Spend a day on a guided fishing charter out of the Fort Pierce Inlet,
where many different fish species provide nonstop action for anglers of all skill levels. 
"The most popular fishing spot is the jetty rocks at Jetty Park," says Bireley. "The jetty is located at Fort Pierce Inlet…. The rocks jut out into the ocean offering anglers many spots to cast a line." Sebastian Inlet State Park, six miles north of Vero Beach, is also a premier saltwater fishing spot. Drop a line for redfish, flounder, snapper, grouper, and more. 
As a sportfishing paradise, Stuart has earned the title "Sailfish Capital of the World." In fact, downtown Stuart boasts the iconic 19-foot bronze Stuart Sailfish statue that majestically leaps from a fountain. The eye-catching piece welcomes visitors to the city.
But that's not all Stuart is known for. "If you haven't yet caught a snook, there is no fight like it," says Killer. "Stuart has five species of snook living in its waters, the only place in the world this can be said."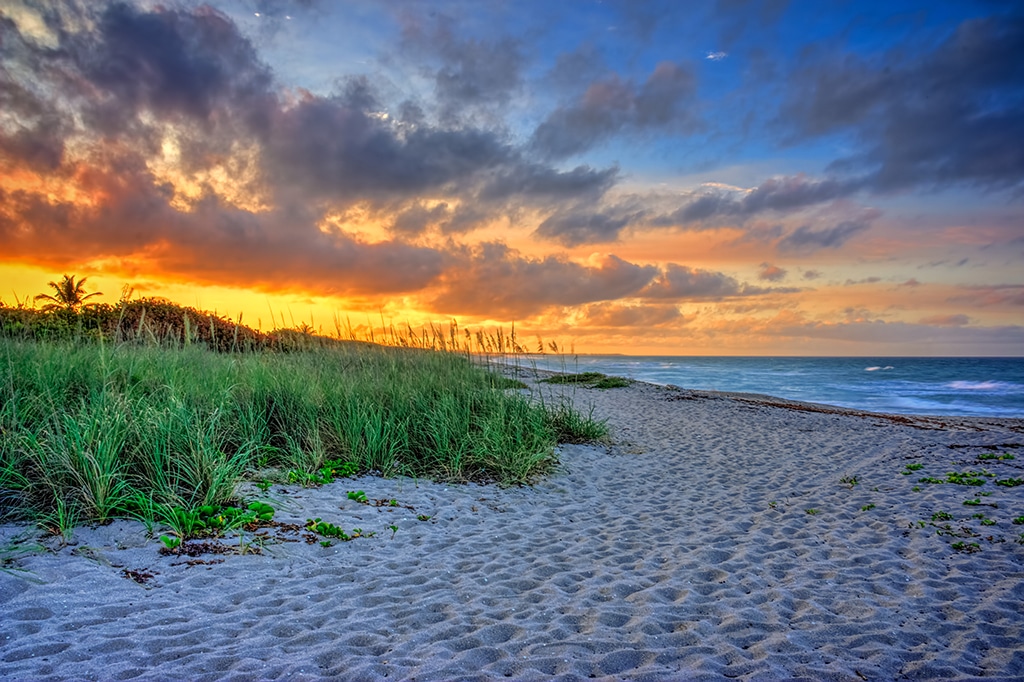 What's Up, Beaches?
Grab the sunscreen and get ready to lean your chair back into the cinnamon sand. With long stretches of pristine shoreline, the Treasure Coast has a vast array of beautiful beaches are never crowded. Enjoy some family fun at Bathtub Reef, Stuart, Hobe Sound, and Jensen beaches, all which are lifeguard-protected daily. Saddle up at Frederick Douglass Memorial Park in Fort Pierce, the only beach in southeast Florida that allows horseback riding along the shoreline. Soak in the sun at Fort Pierce's Blind Creek Beach, recently designated "clothing optional." Hang Ten at Wabasso Beach Park in Vero Beach, a popular surf spot with breaks to the right and left of the jetty.
"Don't miss a day at Fort Pierce Inlet's sandbar by Dynamite Pointe on an incoming tide. The crystal-clear waters from the Atlantic come flowing in giving boaters a feeling of being in the Caribbean," says Bireley. "Visitors will find many boaters anchored to enjoy the tides, cold beverages, music, and a massive party on the sandbar—and it's family friendly." 
Nature Calling
A treasure trove of activities await outdoor enthusiasts. Jonathan Dickinson State Park in Hobe Sound bursts with wildlife in 13 natural habitats including sand pine, mangroves, and river swamps. Enjoy canoeing, kayaking, motor boating, biking, and various guided tours throughout the park. Blowing Rocks Preserve, also in Hobe Sound, is aptly named for the stunning spectacle that occurs at high tide: Saltwater shoots up through the gaps in the limestone, at times spouting 50 feet into the air. The beach dunes, mangrove swamps, and tropical hardwood hammocks along the rocky shoreline are definitely worth exploring. 
Farther south, check out the Jupiter Inlet Lighthouse, operated by the Loxahatchee River Historical Society. Climb all 105 steps to the top for spectacular views. You can also bike along the sandy road on the Historic Jungle Trail and stop at Pelican Island National Wildlife Refuge in the Indian River Lagoon, home to hundreds of animal species, for some birdwatching or a photo op of nature at its finest. 
"Boaters should explore the islands speckled along the edges of the channel in the Indian River Lagoon/Intracoastal Waterway," says Bireley. "Many islands have amenities such as picnic tables, grills, and even a few rope swings for the brave adventurers. Overnight campouts under the stars are popular on the islands."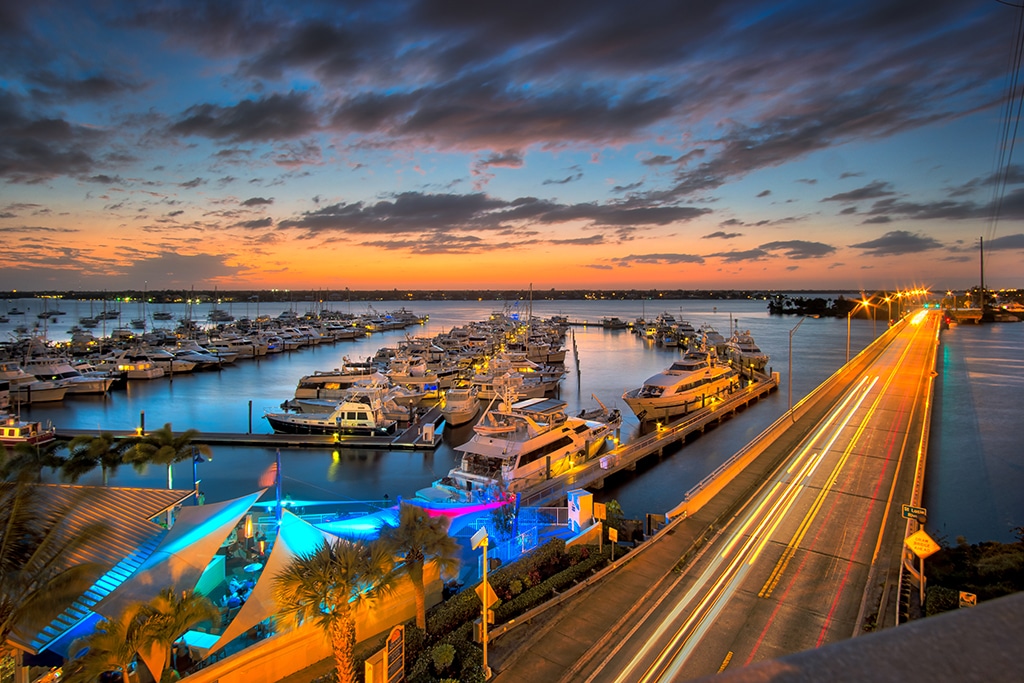 Dock and Dine
"The culinary scene along the Treasure Coast is growing more impressive every year," says Ian Centrone, tourism program manager for the Martin County Office of Tourism and Marketing. From Stuart, home of the annual Stuart Boat Show in January, and Jensen Beach to Fort Pierce and Sebastian, there are numerous waterfront eateries where boaters can "dock and dine." 
Some of the more popular options include Mulligan's Beach House Bar & Grill in Jensen Beach, open for breakfast, lunch, and dinner year-round, where the famous Beach House Bloody Mary is served next to incredible views of the Indian River (mulligansbeachhouse.com). The chef at Pirate's Loft at the Pirate's Cove Resort & Marina in Stuart hand-picks fresh seafood daily and then prepares it with Caribbean flair (piratescoveresort.com). Try Gator on the Edge, fried Florida gator tail bites served with spicy remoulade, at On the Edge Bar and Grill in Fort Pierce, an open-air, tiki-style restaurant with a full bar and live music daily (facebook.com/OnTheEdgeBarAndGrillFL). Or grab a seat on the riverfront deck at Blackfins at Capt Hirams Resort in Sebastian for island-style favorites like fish tacos, conch fritters, crab cakes, and its signature dish, Dirty Oysters (hirams.com).
The More You Know
TCPalm.com's Ed Killer offers some additional insider tips for boaters on the Treasure Coast. "Follow the channel markers," he says. "Stuart has lots of deep water, but around the (St. Lucie) inlet and Crossroads, where the St. Lucie River and Indian River Lagoon intersect, there are lots of shoals and shallow water.  
"Be especially careful after dark," he adds. "Many of the channel markers in the Intracoastal Waterway and Okeechobee Waterway are not lit at night so use a Q-beam to light channel markers so as not to collide with them."
In terms of other tips, Killer suggests checking official websites, such as Discover Martin (discovermartin.com), Visit St. Lucie (visitstlucie.com), and Visit Indian River (visitindianrivercounty.com), to stay well-informed. "Websites house tons of useful resources…sample itineraries based on various interests, special offers that are updated throughout the year, and so much more." 
-by Bonnie Schultz
The post Exploring Florida's Treasure Coast appeared first on Southern Boating.