Warm Up to Puerto Rico
The island is a U.S. territory and a gateway to the Caribbean.
It's amazing how little most U.S. mainlanders really know about Puerto Rico. Sure, plenty have flown to the island or even taken cruise ships to San Juan, the capital of this United States territory, but I'm not convinced many could actually find it on a map, name an ethnic food they've tasted, or list a top five sampling of the island's natural resource treasure troves.
"That may be true, but ask boaters who've visited here, and they'll have answers," laughs Carlos Ponce, assistant general manager at Safe Harbor Puerto Del Rey Marina. "Some will be simple but interesting physical facts, like Puerto Rico being one hundred miles long, sporting seven hundred miles of coastline, and hosting the only tropical rain forest in the United States. Others will be more revealing, such as comments on how welcomed they felt here, the amazing food they sampled, the sea life encountered, quiet coves discovered, or the welcoming attitude of our communities. It's those latter thoughts that always interest me most."
Bucket List Destination
Indeed, for serious boaters who love to travel, a little knowledge of this island seems like a great idea since it's not only a destination, but the gateway to the Caribbean. Puerto Rico is a natural jumping-off point for boaters departing the U.S. mainland for the rich, blue waters surrounding such locations as the British Virgin Islands, U.S. Virgin Islands, and even the Windward Islands of the Lesser Antillies like Antigua, St. Lucia, and Barbados. Here, you can spend a little down time, wait out a spate of windy weather, load up with provisions, and top off fuel tanks before heading off on an extended voyage. It's also a logical hold over stop on your return trip. 
Still, Puerto Rico deserves to be recognized as a bucket list destination for its lush landscape of mountains, beautiful waterfalls, extensive park system, abundant beach access, delicious cuisine, distinctive music, and welcoming communities.
"There's just so much here to see and experience, and coming by boat or chartering a vessel once you arrive is the best way to take it all in," says Ponce. "Even better, since Puerto Rico is a U.S. territory, you'll have no hassles with customs if arriving from another U.S. destination. Just be sure to have your driver's license or photo identification handy, along with appropriate documentation, registration, and proof of insurance, if you come by private vessel. Boaters do have to check in with the Coast Guard upon arrival. After that, you are free to roam, sail, or motor about."

San Juan
San Juan, of course, is the most well-known landing spot along the Puerto Rican coast. Home to the island's largest airport and major travel hub, Luis Muñoz Marín International, you'll find amazing nightlife and big city amenities ranging from world-class restaurants to megayacht marinas here. Isla Verde is the sweet spot with its dramatic high-rise hotel strip, beach bars, casinos, and busy seafront promenade.
From a beach perspective, three options provide fun for everyone. Surfers love Pine Grove, while Alambique is a great stretch on which to kick back and relax. For families, Balneario de Carolina has lifeguards and incorporates a waterpark for the kids.
Old San Juan, just to the northeast, is where history and architecture buffs will want to spend some time strolling the cobblestone streets. It's home to the San Juan National Historic Site with colonial buildings dating back to the 16th century including the massive San Felipe del Morro and San Cristobal fortresses, plus the tomb of Spanish explorer and Puerto Rico's first governor, Ponce de León, said to have searched for the Fountain of Youth. While he may not have found it, you wouldn't guess that by the colorful homes here or the nightlife on Isla Verde. While taking in the sights, be sure to check out the Paseo de la Princesa bayside promenade.
Go Inland
You can't beat the big city if you like to party. On the other hand, those who want to experience this island at a grassroots level with a slower pace, more personal interaction, and unlimited chances to discover the island's homegrown flavor should really set out to explore less-traveled paths both along the coast and heading into the island's interior.
"Exploring our suburban and rural areas is a lot of fun, and you'll be able to figure things out with a little help from the locals," says Ponce. "Most Puerto Ricans speak Spanish and English. We tend to be more engaging outside of the urban areas, and we're proud of our heritage and culture. We love our lifestyle and natural resources, and we are happy to share them with the world. Many of the boaters who visit our marina, in fact, tell us they enjoy most the warmth of our communities. I think that's our greatest resource."
If experiencing Puerto Rico at this level floats your boat, there's no better way to tackle the task than by water. If setting your own course and coming from the U.S. mainland, check in with your base marina for local suggestions on where to visit. Most boaters, however, arrive by plane and then rent catamarans, sailboats, or powerboats. For this, you'll have little trouble finding options. 

Coastal Areas
Ponce recommends exploring the coastal areas around Lajas, Fajardo, Ponce, and Cabo Rojo to see Puerto Rico at its most relaxing and combining that with visits to some of the island's interior parklands which feature hiking, nature viewing, waterfalls, and zip lines. Be certain, he says, to check out El Yunque tropical rain forest toward the island's eastern end.
Local beaches also are tons of fun. Flamenco Beach in Culebra, for example, ranks consistently in the top 10 beaches worldwide. Crash Boat, Playa Sucia, and Balneario de Boquerón are terrific for sunning and swimming, too.
Then there's Rincón on the west side of the island. It's the surfing capital of Puerto Rico with waves that can exceed 20 feet. This is a small city that sees a big influx of surfers in season yet remains relatively low-key during the rest of the year. "It's where I go to get away from all the hustle and bustle for a few days," says Ponce.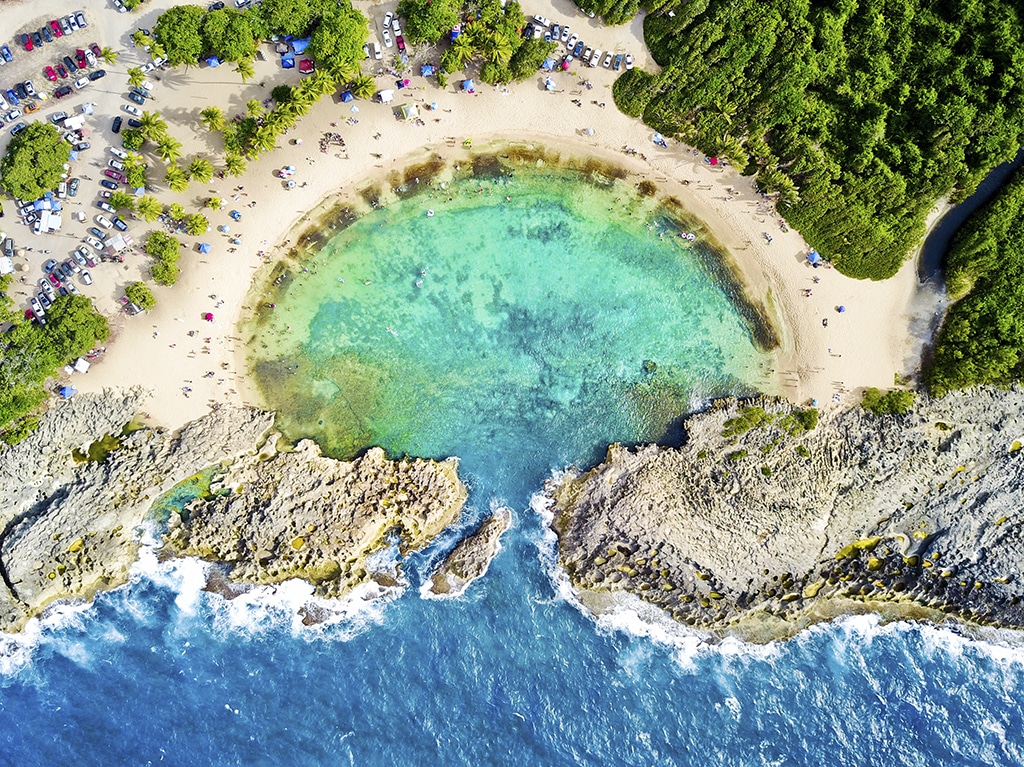 I can see where he's coming from. Just last year, my brother, Joe, invited my wife, Felicia, and me to share a weeklong rental with family in Puntas, Rincón. We were thrilled to be within walking distance of two quiet beaches, a small, laid-back stretch of road with several interesting shops, and a pleasant mix of restaurants/bars just minutes from our Airbnb rental home, Casa Dos Hermanas. Local amenities also included SCUBA and snorkeling operations, horseback riding, surfing, and fishing excursions.

Delicious Dishes
It was here that I fell in love with Puerto Rican food. Ola Sunset Cafe sits right on the water with plenty of outdoor dining available overlooking Isla de Desecheo. While enjoying meals of alcapurrias (ground beef-filled fried fritters made from a mixture of grated taro root and green bananas), along with shrimp, lobster, and mahi empanadas, plus ample quantities of wine and rum, we reveled in the sight of dolphin cruising just beyond the surf. Some days you can watch whales swimming here, too.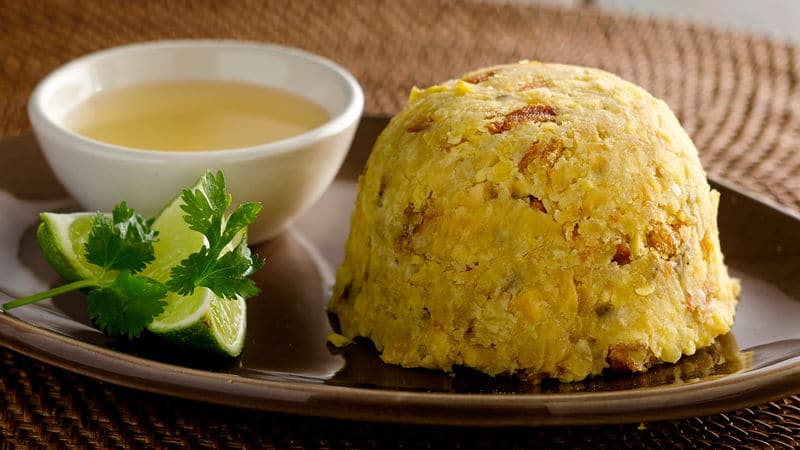 It was also at a restaurant in Rincón that I was offered the chance to sample mofongo, a Puerto Rican staple made of plantains mashed with salt, garlic, broth, crispy pork skin, and olive oil, then served with a variety of fillings and a topping of red shrimp sauce. Feigning fullness, I passed on that opportunity, but Ponce says I need to come back, give it a try, and then push further off the beaten track to uncover more uniquely Puerto Rican treats like corn or rice and beans ice cream.
It's advice I'll certainly consider next time around. 
-by Tom Schlichter