Dual Purpose
Blackfin's 302 DC can fish or cruise with equal aplomb.
Central Florida's Blackfin Boats has been turning out fast, rugged, and high-quality fishing boats to ply the waters of the Gulf of Mexico and beyond for 50 years. The Blackfin 302 DC is just that! Founded by Carl Herndon back in 1973, Blackfin has remained a stalwart in a business famous for seeing even iconic brands fizzle and fade into history.
So what makes Blackfin tick? A steady and clear-eyed focus on seaworthiness and usability helps for sure. But there is something else at play here that goes a long way for longevity. Blackfin knows its market. And while it has made its bones as a fishing boat company, the builder also knows that lots of times, there is a fine line between hardcore fishermen and weekend sandbar hoppers. People simply love to cruise, and if there is one fisherman in a family of five, that leaves four more people who are likely pleased to simply take the boat out for a spin. And thus was born the Blackfin 302 DC—a boat that is eminently fishable, but which also has the requisite creature comforts to keep the whole squad happy and coming back for more.
Fishability
It's best to start in the unusually large cockpit, which is bigger than the DC's sistership, the 302 CC (center console). The cockpit has two compression-molded, in-sole fish boxes, plus another in-sole compartment aft for extra stowage that also offers access to shut-off valves and the livewell pumps. A sturdy, beefily hinged, inward-opening dive door to port pulls double duty, both for hauling aboard large game fish and for acting as a conduit to the water for snorkelers and swimmers. Combo cupholder/rodholder openings line the gunwales, and four more dedicated rodholders are at the ready along the transom above a foldout bench seat. (The hardtop has six built-in rocket launchers as well, and there are two more rodholders at the bow, which will be a boon for bottom fishermen.) 
There's also a handy ruler along the top of the transom to help determine what to keep and what to toss back to swim another day. A second sea-level opening is at the transom in the form of a starboard-side boarding door with access to the small but usable swim platform and its fold-up swim ladder.
Opposite of that door is a port-side, 30-gallon livewell with rounded corners to help keep baitfish alive and, um, well. The cockpit also has a raw-water washdown for cleaning off fishy viscera, or for a less gnarly job, simply giving yourself a spritz when you climb back in after a swim. And there are rod stowage compartments to both port and starboard, so you're never at a loss for your weapon of choice.

Creature Comforts
The DC has twin YETI 45 coolers that stow to port and starboard forward in the cockpit. The port-side cooler slips neatly below a galley station with a sink, refrigerator, cutting board, and pull-out electric grill. To starboard, the cooler slides below an aft-facing seat that's excellent for watching trolling lines or waterskiers. One cool feature that shows Blackfin's experience with building boats where space is at a premium is that this aft-facing seat can fold out into a sunpad—equally adept at helping a guest catch some rays or some Zs.
At the starboard-side helm, the captain has a comfortable double-wide seat with well-crafted stitching. A mirroring seat to port makes for an excellent spot for a mate to keep the captain company and perhaps learn some tricks of the trade. Each seat, as well as all pull-out and lounge seating on board, is covered with a tough and durable fabric weave called Ultrafabric, which has the bonus of being easy to clean and cool to the touch even when the sun beats down on it. The steering wheel is power-assisted and adjustable and is protected by a head-high windshield. Lines of sight are fully unobstructed—a hallmark of smart design.
The foredeck lounge is accessed through a wide passageway that is set off from the helm station by a movable section of the windshield. A heavy-duty, stainless steel latch locks the glass section in place to ensure that there is no bouncing or jostling as this boat peels across the swells at high speeds.
The lounge is a really laudable feature on this boat and one that bolsters her qualities as a cruising vessel. First, and perhaps most important, the seating is very deep which is excellent for safety—of particular concern if you have kids on board. The twin, forward-facing lounge seats with folding armrests are super-ergonomic and also covered with Ultrafabric. Requisite phone-charging ports and cupholders are a nice touch as is the cocktail table in the center of the space.

Versatility in Design
The 302 does have a bit of a transformer quality to her though, as would be necessary for a boat of this size to be equally adept at fishing and cruising. The bow lounge can convert into a casting deck. The lounge cushions stow neatly inside the boat's console, and the hi-lo cocktail table can drop down even with the seat supports to create a clean and uncluttered space to reel in grouper and snapper.
But the 302 really shines when lines are pulled in, and it's time to take off to the next honeyhole or waterside eatery. The boat has a twin-stepped hull designed by Michael Peters that offers not only grippy control when running through slop, but also a reassuringly soft entry off the tops of bigger waves.
Wide flare in the bow also helps to bat down the seas and keep everyone aboard dry, while a 23-degree deadrise at the transom means the hull can dice up waves with extreme prejudice. With twin 300-hp Mercury V8s, this model has some real zip. She tops out at a very sporty 55 mph and cruises happily at 38 mph burning 1.45 mpg. The captain can track all his vitals on two easy-to-read Garmin screens while he is manning the boat using a confidence-inducing tri-spoke wheel. At docking speeds, a combination of a joystick and a bow thruster make this boat a dream to handle when docking, even in close quarters.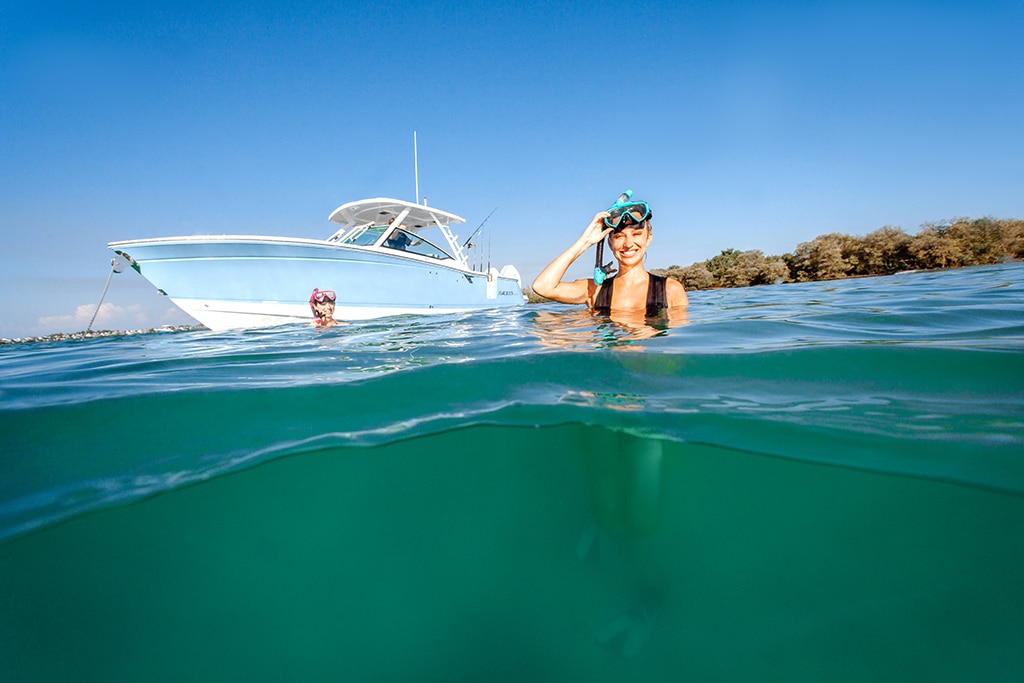 The Blackfin 302 DC packs a wallop. She is jam-packed with features that both fishermen and cruisers will like, and it's all encompassed in a package that puts the emphasis on ergonomics, functionality, fit, and finish. This is the kind of boat that should put the fear of God in her competitors because there is very little she can't do and do well. With build quality like that seen on the 302 DC, you can expect Blackfin to still be popular come 2073. BlackfinBoats.com
– by Kevin Koenig
The post Blackfin 302 DC appeared first on Southern Boating.