I have never been to Grand Bahama, well, except when I did a yacht delivery and stopped at West End to check in before heading to the Abacos. Dinner and an overnight at Old Bahama Bay Resort and Yacht Harbour was peaceful and enjoyable, and the pool, beach bar, and beach were a nice way to end the day, but I didn't give the rest of the island any thought. The next morning, we were off to the Abacos.
The voyage across Little Bahama Bank was exciting, primarily because the water was so clear I thought I'd hit bottom, and the isolated thunderheads towering over curtains of rain was a photographer's dream, especially with turquoise waters spun in sandy hues blending with a deep blue sky scattered with bright, billowing white clouds. It was a spectacular view, but the low-lying shore to my south was all I saw of Grand Bahama.
Hurricanes have a habit of destroying beautiful views, particularly on land, and Hurricane Dorian did just that to Grand Bahama and the Abacos, and the rebuilding process still continues. The COVID pandemic took hold shortly after and the islands were shut down completely, but that's all changed and the Abacos as well as Grand Bahama are up and running again. News spread quickly in my world about the Abacos, primarily because they are such a popular spot for fishing, recreational boaters, and vacationers with so many places to hide out among the small barrier islands along the eastern flank of Great Abaco Island, but I barely heard a thing about Grand Bahama.
A letter from a gentleman who lived and worked on Grand Bahama in the 1970s reached my office asking what had happened to the island and the places he worked after the storm. After I received four handwritten letters in the mail, I searched for news, but didn't find much, so I wondered too. After winning a Balearia Caribbean Fast Ferry ride, it was a sign that it was time for me to go and find out.
Balearia Caribbean Fast Ferry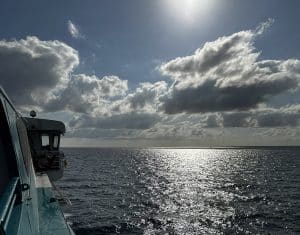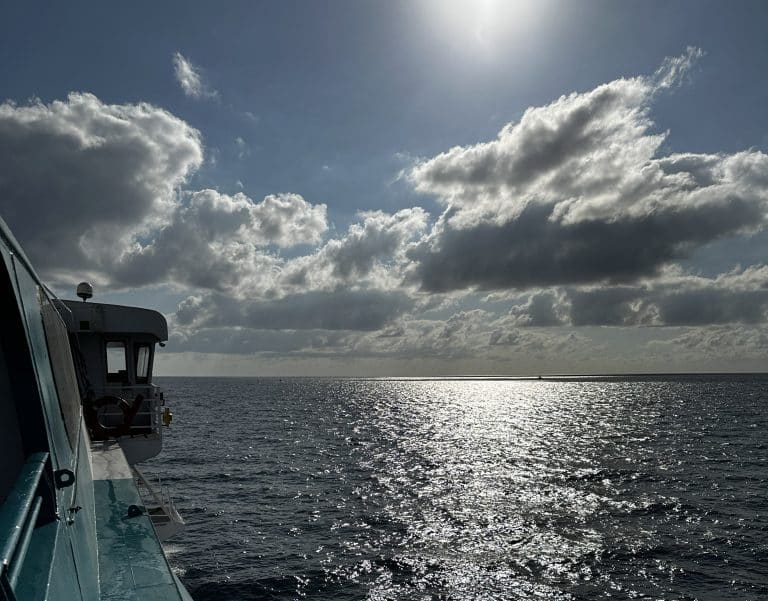 Taking the Balearia Caribbean Fast Ferry over to the Bahamas was much easier and less stressful than the 46-foot yacht I delivered. On top of that, it only took an hour and a half to reach Bimini from Fort Lauderdale and then two hours up to Freeport, Grand Bahama. The day I rode back to Fort Lauderdale was a straight shot that took three hours.
The Balearia Caribbean Fast Ferry currently operates Wednesdays, Fridays, and Sundays to Bimini with one round trip each day and it varies to Grand Bahama with two to three times per week, generally Wednesdays or Thursdays and Saturdays. Balearia's Jaume II is 266 feet in length with a 24-foot beam and its two skids in the catamaran-style design provide stability and speeds more than 30 knots. We averaged 32 going across to Bimini and 35 up to Grand Bahama; it was a beautifully calm day on the Florida Straits. It carries up to 600 passengers in comfortably padded seats spread on two decks with a bar and fast-food cafeteria, a duty-free gift shop, and two outdoor decks aft for a bit of sea spray and fresh air views.
Balearia has ships around the Mediterranean, Morocco and the Canary Islands, Spain, France, Algeria, and Fort Lauderdale. "We have forty ships globally," says Capt. Eduardo Martinez, who has been a captain with Balearia for four years. "The largest ship we have is around six-hundred feet." Jaume II is powered by four waterjet propulsion systems that are about 5,670 kW each, which is equivalent to about 30,000 horsepower total. The ride was comfortable, and when I wasn't out on the aft deck, the interior TVs show blockbuster movies, in this case, Top Gun: Maverick. baleariacaribbean.com
Freeport, Grand Bahama
Grand Bahama is the northernmost island in the Bahama archipelago and the second most populated. The westernmost point is 55 miles from the U.S. East Coast and within easy reach of international shipping channels, so financier Wallace Groves, looking to reset his own life in the Bahamas back in the 1950s, came up with the idea to develop an area on Grand Bahama that would not only make him money, but could attract foreign investors to the island that, at the time, had little infrastructure or amenities.
"Back in 1955, Wallace Groves entered into an agreement with the government of the Bahamas…to create an industrial zone for manufacturing, warehousing logistics, an industrial sector that could benefit from the proximity to the largest economy in the world," says Derek Newbold, chief investment officer, Grand Bahama Port Authority Limited. "The government of the day was colonized, so there was a British governor, but we also had a local governing party. They entered into an agreement with this American financier, this investor, to create…a special economic zone. That agreement was governed, or is governed, by…the Hawksbill Creek Agreement (HCA)."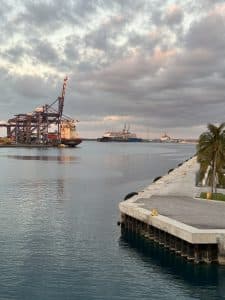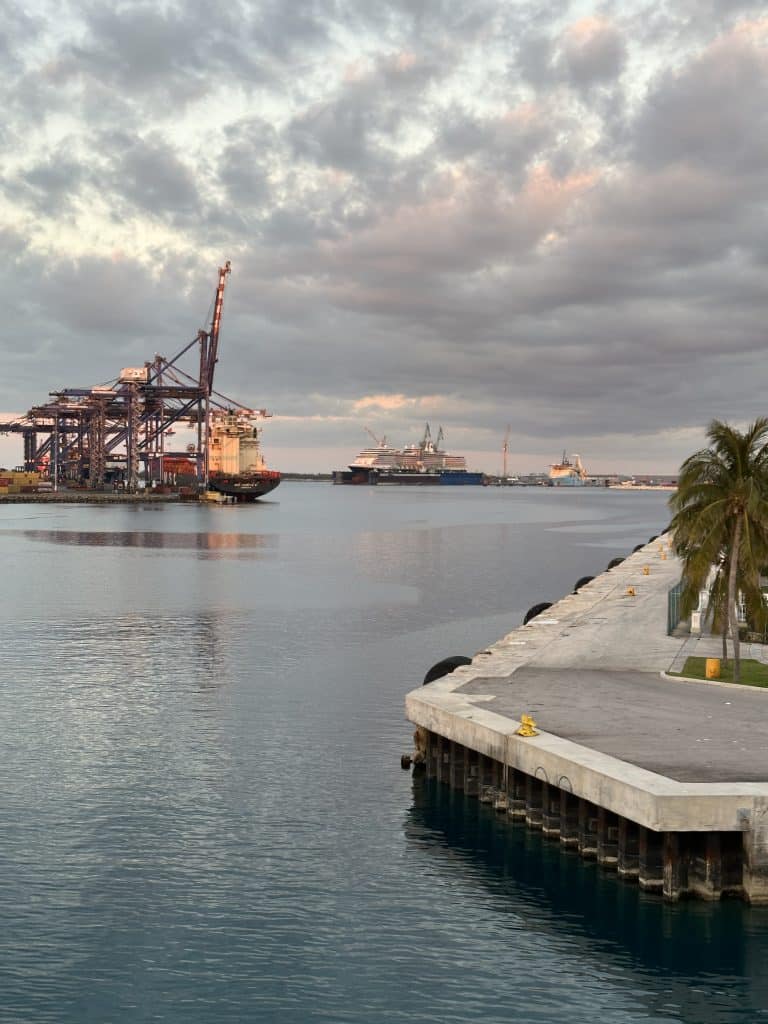 That agreement gave Groves the right to develop about 50,000 acres of land, but that was just the beginning. "He asked the government for certain concessions, tax concessions, such as no corporate taxes, no income taxes, no taxes on repatriation of profits and dividends, no capital gains taxes," says Newbold. "And then there were duty-free concessions to import certain goods relevant to the operation of business, such as capital expenses."
He went even further with the idea that the development would have the right to provide certain services within the area, such as electricity, telecommunications, access to water, access to garbage disposal services, and so on. The government agreed and saw an opportunity for the island to grow, so in exchange, they asked Groves to develop a deepwater harbor, build schools, and be the catalyst behind driving the development of a tourism sector.
Freeport was born, and a master plan was developed. "It's very organized," adds Newbold. "In the west, you have the heavy industrialized area. This is where you have the oil trans-shipment terminal, and then you would have the container port and harbor area, all considered heavy industrial. As you move east, you enter into the light industrial or civic industrial area, then you get into the commercial district, which is thought of as the Town Center. On the outskirts, you have tourist commercial, and then you have residential pockets. It's very planned and structured. You don't see a home, then a business or church, then a liquor store."
Groves did so well that the HCA was amended in 1960, giving him more rights and the segue into the tourism sector. In 1966, it was amended again, and in the end, the Grand Bahama Port Authority Limited was in control of some 170,000 acres of land within the 230-square-mile "free trade zone" that was agreed upon in the HCA. Newbold points out that a free trade zone brings about economic reform to stimulate employment, economic activity, be a testing ground for new government policies, including legislation, and to attract foreign investment. A business can save a lot of expense when equipment, fixtures, vehicles, and such are brought in duty-free.
"Freeport is kind of like the best-kept secret in the region," says Newbold. "But that's not going to last very long. …Over the next few years, you can expect Freeport to rival the best free trade zones in the world. You're going to see more businesses continue to set up shop, and what that's going to do is create this sort of synergistic environment that other businesses can benefit from and also thrive. That's our future, and we can't miss it. Industry has continued to thrive, and based on everything that's happening right now, tourism is poised for a major expansion. You're going to see Grand Bahama continue to rise on both fronts in terms of its investment, its industrial sector, and the tourism sector exploding, so to me, if I was a betting man, I would bet on Grand Bahama. Why? Because I have a front-row seat."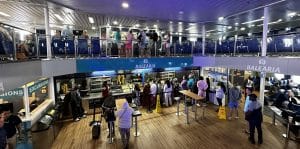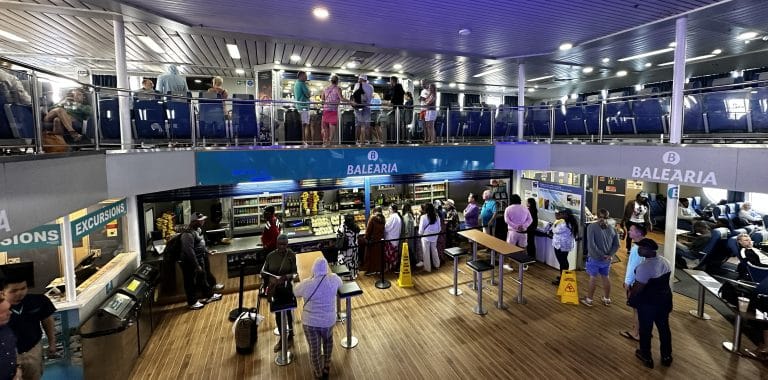 This is just one part of the report on Grand Bahama's recovery and growth. Be sure to check back in the coming weeks for more on the island's resorts, marinas, restaurants, shops, water and land activities, and much more. The future is looking as colorful as its surroundings.
Read more Southern Boating Destination content here.