Diesel Comes Clean
Diesel outboards try to break into the mainstream.
Diesel outboards have long gotten a bad rap of being smelly and smoky, but a new generation of diesel technology is aiming to leave that in the sooty past. As yacht owners and the military move to a single-source fuel concept, diesel outboards are having a moment.
Today's diesel outboards have higher horsepower, better range, and are lighter than models offered less than a decade ago. Gasoline four-stroke outboards still rule, but diesel outboard manufacturers hope to grab a slice of the valuable recreational market.
"We see ourselves as an innovative and disruptive industry competing against the big four: Yamaha, Mercury, Suzuki, and Honda," says Douglas Natoce, president of Diesel Outboards. "When you have a product going against the mainstream, they don't always like it."
Natoce's OXE Marine AB is the largest manufacturer of high-horsepower diesel outboards, offering four models from 150 to 300 horsepower. The U.S. market makes up nearly 50 percent of the company's revenue and a growing market for the Swedish builder.
The diesel outboard market is limited in the U.S. as Cox Marine offers a 300-hp diesel outboard and of those major manufacturers, only Mercury Marine has a diesel outboard.
Convincing consumers to switch to diesel power is a challenge, especially as the four-stroke gasoline outboards continue to improve. Add to it that a diesel outboard costs more upfront and is heavier than its gasoline counterparts, Natoce has his work cut out for him.
Fred Kiekhaefer, former president of Mercury Racing, says diesel outboards have a market in offshore fishing and long-range cruising. Kiekhaefer laid the groundwork for the Verado outboards before retiring from the Wisconsin company in 2013.
"The dramatic propulsion shift from sterndrives and inboards back to outboards could pull some diesel outboard demand, but it's an uphill challenge," Kiekhaefer wrote in an email. "The market drivers will still be increased consumer value: price, vessel range, fuel availability, and relative fuel price."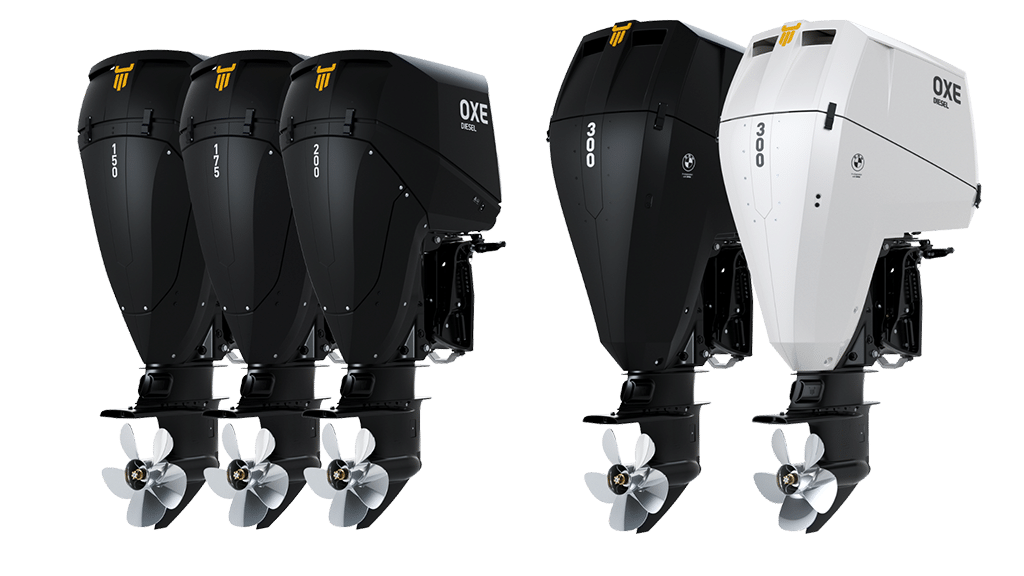 The diesel OXE300 25-inch version weighs 947 pounds, while the comparable horsepower gasoline-fueled Mercury Verado 300 weighs 600 pounds. When stacked up against the bigger block models, though, the diesel outboard is almost 300 pounds lighter on average.
But Natoce's counterpoint is "with that you gain the torque, you gain the range, you gain the fuel economy, and you get a much longer shelf life."
OXE Marine rates the 300-hp outboard at 10,000 hours with the company marinizing a BMW diesel automotive engine. The diesel outboard situates the engine horizontally (on most outboards it's vertical) and transfers the power through a belt system to a transmission and belt that drives the lower shaft. 
The proprietary belt system eliminates vibration common to diesel engines and can absorb the torque. The 200-hp model produces 500 Newton meters of torque, which Natoce says is among the highest available.
A pair of the company's 300-hp models were on a boat in the water at the Miami International Boat Show. They appeared slightly larger and flatter than a typical four-stroke outboard. While the engines were idling at the dock, no emissions were visible and rarely a hint of diesel fumes.
Customers walking by the docks asked a company representative about the price and did a double take after hearing $61,000. Gasoline outboards with similar horsepower are about half the price. Natoce says the extra cost is quickly made up when you factor in the better fuel economy, less maintenance, and longevity.
Yacht owners have reduced insurance rates by eliminating gasoline on their yacht.
"You have to educate the consumer that is doing that type of homework," he says. "They are the first ones to say, 'Wow. It's a good return on investment.'"
In a move to the recreational market, the company introduced a new ultra-high-performance waterjet for its diesel outboards. The unit is a bolt-on replacement to the standard lower unit on the company's outboards. Natoce says the waterjet performance is equal or better than propeller versions.
"The waterjets for outboard motors are antiquated, a very poor design form," he says. "They're very susceptible to turbulence in the water capitation, and they're maxed out at one hundred horsepower or so. When I saw the diesel (outboards) and I got into it, I realized I could design a new water pump in a waterjet and revolutionize waterjets."
The company plans to expand its Jet-Tech Propulsion into the gasoline outboard market, appealing to customers who are leery of propellers or boats in shallow waters where props can be easily dinged.
When it comes to alternative marine power, Kiekhaefer thinks that diesel outboards will be more practical than electric outboards in the greater marine environment. He believes gasoline outboards will continue to rule.
"Pushing bigger boats in open water gives diesel an advantage over electric," Kiekhaefer says. "Big-water boating is like motocross with a fully loaded semi-tractor/trailer over the Rocky Mountains (with the mountains moving). There's just not enough battery storage or charging capacity to get you out and back safely." 
-by Gregg Mansfield