Trailer Talk
Boat trailers are built to take abuse, not only from the boat and open road, but from constant submersion. While freshwater can be benign, saltwater is brutally corrosive—a small amount of residual saltwater can damage internal parts when the trailer sits idle during the off-season.
Boat trailers are not all created equal, so how do you know which is best for your use? Some manufacturers construct trailers out of aluminum I-beam, others out of tube or C Channel steel. To add further confusion, steel trailers can be painted or galvanized. So where do you start in determining the boat trailer that is right for you?
There are a few key factors to consider when deciding which style boat trailer best fits your boating lifestyle.
Do you use the trailer in freshwater, saltwater, or both?
What size is your boat, and how much does it weigh?
What do you expect out of your trailer: strength, durability, longevity?
Galvanized
Galvanized boat trailers come in two forms: tube steel or C Channel steel. Most galvanized boat trailers are constructed out of pre-galvanized tube steel sections that are typically bolted together.
"The most structurally sound way to build a galvanized trailer is to weld the trailer out of C Channel steel, prep the frame, then have it dipped in a hot dip galvanizing tank," explains Megan Meisler, co-owner of Loadmaster Trailer Company in Port Clinton, Ohio. Loadmaster offers custom galvanized trailers. "Building a trailer this way, like we do, makes sure the welds and all components are dipped. Galvanizing prevents the steels from saltwater corrosion."

Aluminum
For people with smaller boats that submerge their trailers in saltwater, an aluminum bolt-together-style trailer is sufficient. The core product of these trailers is made of aluminum I-beam; however, the cross-members and axles are often made of a galvanized material. One thing to be aware of is that electrolysis can occur where these two unlike metals interact and cause corrosion. If you purchase an aluminum trailer, keep an eye on the intersection points where galvanized steel meets aluminum.
"An aluminum trailer will most likely serve a longer duty cycle as it isn't prone to rusting," says Jon Smiley, business development director for Bradenton, Florida-based MYCO Trailers. "An aluminum trailer is also lighter than a galvanized steel trailer, thus, reducing the load on your tow vehicle. However, MYCO traditionally recommends its galvanized steel trailers for commercial and industrial use."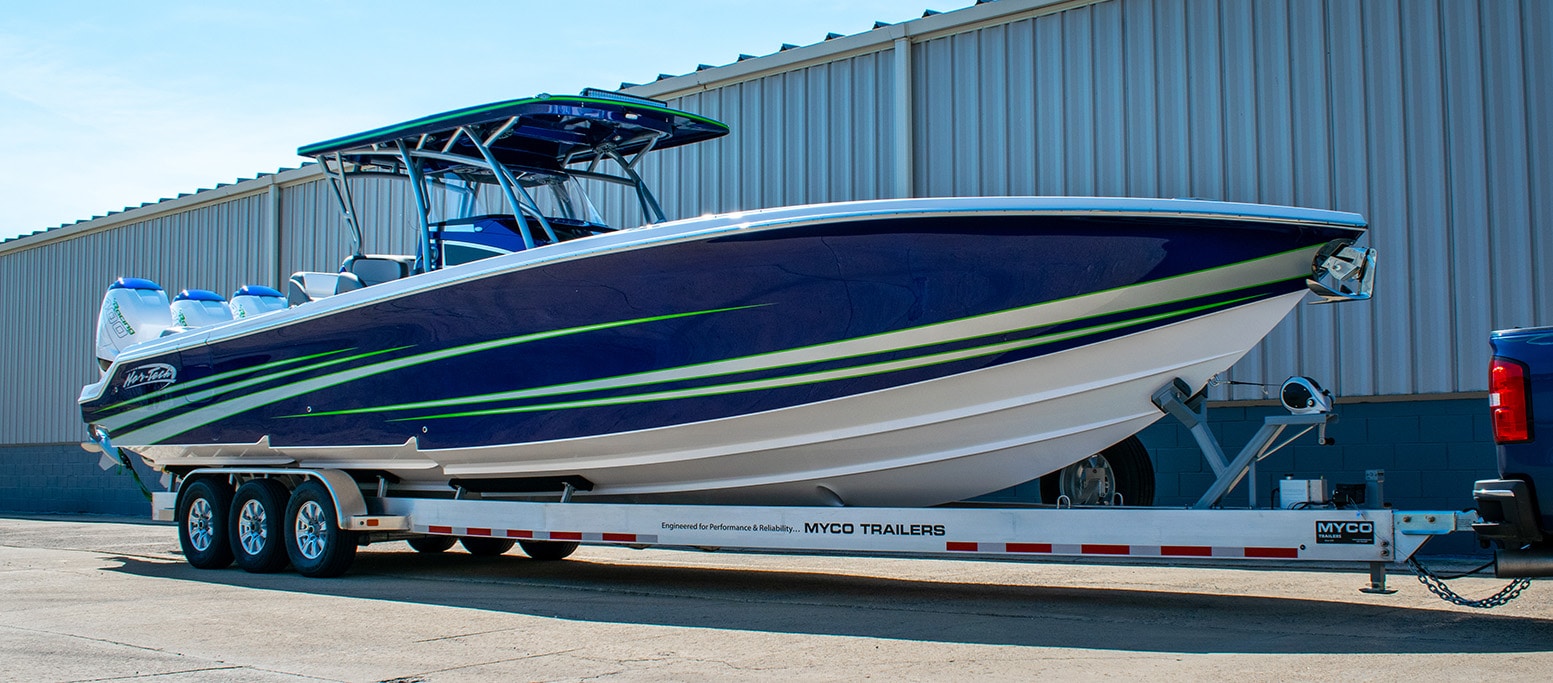 Properly Choose Trailer Size and Capacity
Confusion is possible as to the difference between the Gross Vehicle Weight Rating (GVWR) of a trailer and the actual Net Payload (or Carrying Capacity). Every trailer has a GVWR. This is based on the capacity of the axles, tires, frame, and components. Often, people forget that the trailer has to carry its own physical weight.
In order to properly determine the actual total boat weight a trailer can support, you need to subtract the trailer's weight from the GVWR. GVWR – (trailer's physical weight) = Net Carry Capacity. The Net Carry Capacity is how much weight the trailer can support on top of it. For example, if the GVWR of a trailer is 12,000 pounds and the trailer physically weighs 2,000 pounds, the Net Carry Capacity of the trailer is 10,000 pounds.
"Hence, a trailer for a twenty-foot center console will have a GVWR far less than that of a larger thirty-foot boat," says Meisler. "A boat's loaded weight and length are taken into account in determining what model of a trailer is required to safely haul the boat."
Using a 35-foot center console with two outboards, you would need to get the boat's dry weight (hull only) and to that number add in the weight of the two outboards, fuel, water, holding weight, batteries, then a safe number for gear and electronics. So, a dry weight of 8,000 pounds plus 1,400 pounds for motors, another 1,800 pounds for 300 gallons of fuel, plus water, batteries, and gear could mean the boat's loaded total weight is 13,000 pounds.
"It's critical to ensure you figure out the actual weight the boat would be to ensure you do not overload the net carry capacity of the trailer," says Meisler. "At first glance, you would think a fifteen thousand-pound GVWR trailer would be more than enough, but by the time you subtract the weight of the trailer, you would likely need to go heavier."
In this situation, Meisler says she would quote a tri-axle trailer with three, 6,000-pound axles and 16-inch E radial tires and wheels to provide a GVWR over 18,000 pounds.