The Bahamas' National Parks by Boat
Each marine park offers visitors a unique experience.
What brings visitors to the shores of the Bahamas is different for everyone. But you're sure to gain a one-of-a-kind experience when you visit one of our marine parks.
At The Bahamas National Trust (BNT), our mandate is to protect national parks for the benefit of both people and nature itself. These parks are special places that support biodiversity and provide unique spaces for people to connect with nature. Did you know there are 32 national parks (and counting!) in the Bahamas for you to explore?
Exuma Cays Land and Sea Park
Out of these 32 parks, 23 are entirely marine-protected areas or hybrid land and sea parks, which are the perfect stop for those boating in Bahamian waters. If there's one you may have heard of, it's most likely the Exuma Cays Land and Sea Park (ECLSP), which is
the first land and sea park in the world.
The historic ECLSP is a sanctuary for invaluable and unique species and natural resources. Within its 174,194-acre boundary are some of the healthiest reefs, mangroves, seagrass beds, and other ecosystems you'll see in the Bahamas. This is a prime boating destination that provides visitors various up-close experiences to enjoy with nature. Popular activities in the ECLSP include hiking, exploring, diving, snorkeling, kayaking, and more. 
Our Quick Guide to the ECLSP, an all-inclusive guide to the Exumas and the ECLSP specifically, supplies information on the full host of activities guests can enjoy during their stay in the park. As a bonus, we offer special experiences with our ECLSP Park Wardens on a case-by-case basis for visitors.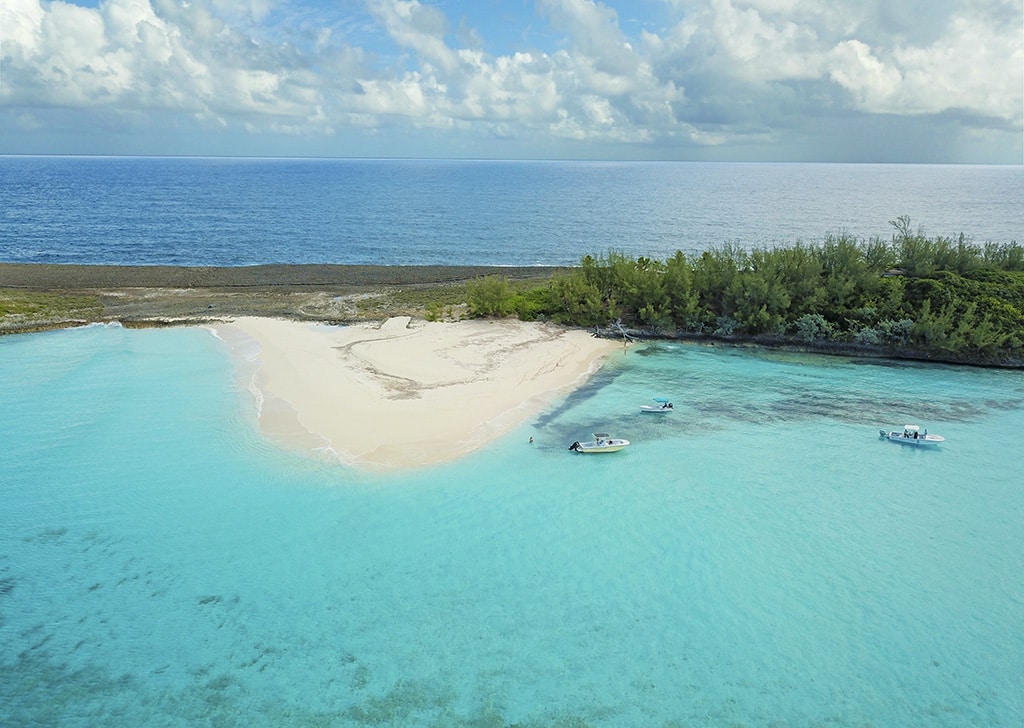 Pelican Cays Land and Sea Park
While the ECLSP may be the most well-known of our marine parks, there's no shortage of options of other parks for boaters navigating our waters to choose from. If Exuma isn't on your list, stop by the Pelican Cays Land and Sea Park in Abaco. The second land and sea park established in the Bahamas, it offers the perfect serene environment to enjoy the sun, water, and nature of the Bahamas. Dip your toes into the crystal-clear sea or spread out your picnic blanket and spend your day relaxing on top of the warm, sandy shores. 
Pelican Cays has a wide range of fun and exciting things for visitors to do. It has spectacular snorkeling and diving because of its impressive reef systems that support a high diversity of tropical reef species. The magnificent coral reefs and pristine, inviting beaches within the park make it a valuable attraction for both visitors and residents, and it's frequently used during the summer and holiday seasons.
The Pelican Cays Land and Sea Park protects 2,100 acres of extensive coral reefs and abounds with terrestrial plant and animal life. More than 170 species have been documented within park boundaries, which serves as a refuge for sea turtles and other species. Additionally, commercially important species such as the Nassau Grouper, Queen Conch, and Caribbean Spiny Lobster have been seen within the park, as well as marine mammals and some species of seabirds that have been observed nesting in colonies on the rocky cays.

Moriah Harbour Cay National Park
If you're searching for a marine park where you can experience the wonders of the Bahamas' natural beauty and diverse species, visit the Moriah Harbour Cay National Park. This park in Exuma was established in 2002, after decades of petitioning and campaigning from locals and conservation champions like Basil Minns. A local Exumian, Minns grew up surrounded by nature and saw firsthand all that Moriah Harbour Cay had to offer. He led the charge to declare it a national park. Many of the activities he recalls participating in with his family, such as picnicking, kayaking, swimming, birdwatching, diving, etc., are all available for guests to experience today.
Home to vibrant populations of endangered corals, sea turtles, conch, lobster, grouper, birds, and sharks, Moriah Harbour Cay—with its breathtaking views and turquoise waters—provides incredible opportunities for recreation, such as kayaking, snorkeling, kiteboarding, bonefishing, hiking, and photography. 
The park encompasses more than 27,000 acres of pristine beaches, sand dunes, mangrove creeks, seagrass beds, blue holes, and coral reefs. It boasts an abundance of wildlife, important habitats, and numerous ways for people to connect with and enjoy the wonders of nature. The marine environments protected in this area are a vital part of the Exumas. This is a national park that perfectly exemplifies the natural "jewels" of the Bahamas.
As extraordinary as these parks all are, they have one very important thing in common:
their beauty needs to be preserved for the benefit of the Bahamas, its people and visitors, and nature itself.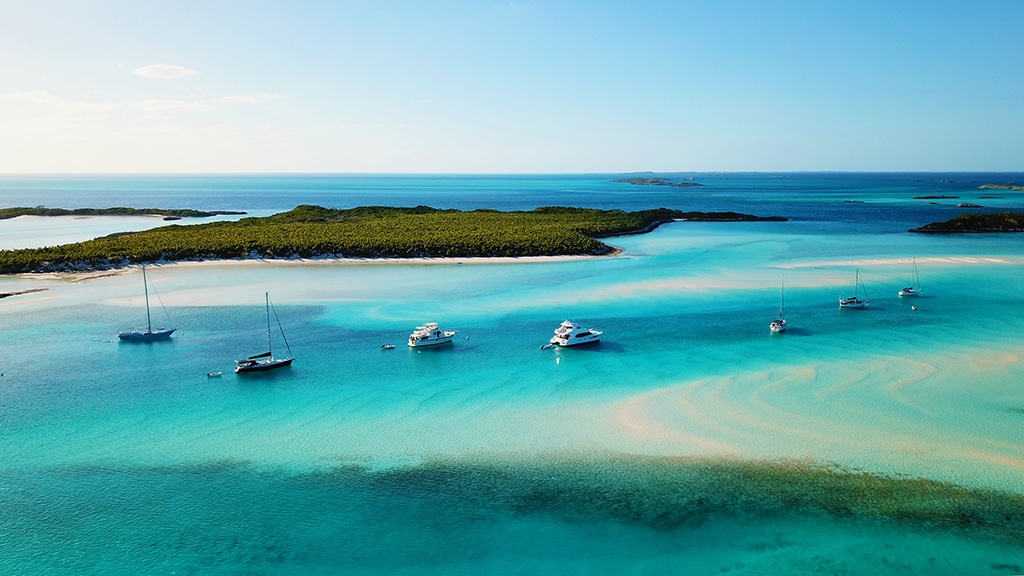 Rules and Regulations
Take this invitation to visit and explore what all 32 of our national parks have to offer, but make sure you follow park rules and regulations while you do. Many species depend on these areas to survive and thrive, and the conservation of these areas and species are intrinsically tied to the Bahamas' culture, history, and economy. That's why we must work together to ensure these species and ecosystems remain protected, for now and tomorrow. We want everyone to be able to visit, experience, and enjoy these special places for themselves.
Read about the rules and regulations of the ECLSP in our Quick Guide to the ECLSP, but note the rules outlined there generally apply to all our national parks. 
Among these regulations, it's important to emphasize that the park is a complete no-take zone, meaning under no circumstances is any fishing, conching, shelling, or lobstering allowed. Nothing living or deceased may be removed from the park.
To learn more about the role the BNT plays to manage terrestrial and marine national parks, protect species that inhabit them, and inform environmental policy, visit bnt.bs. 
To directly support the work of the BNT, consider making a donation. The Bahamas National Trust Fund Inc. is a 501C3-registered charity in the U.S. This means donations made to the organization are tax-deductible. If you want to make a more long-term impact, consider joining the BNT and becoming a member. Visit bnt.bs or email [email protected].
-by The Bahamas National Trust