/*! elementor – v3.17.0 – 01-10-2023 */
.elementor-widget-text-editor.elementor-drop-cap-view-stacked .elementor-drop-cap{background-color:#69727d;color:#fff}.elementor-widget-text-editor.elementor-drop-cap-view-framed .elementor-drop-cap{color:#69727d;border:3px solid;background-color:transparent}.elementor-widget-text-editor:not(.elementor-drop-cap-view-default) .elementor-drop-cap{margin-top:8px}.elementor-widget-text-editor:not(.elementor-drop-cap-view-default) .elementor-drop-cap-letter{width:1em;height:1em}.elementor-widget-text-editor .elementor-drop-cap{float:left;text-align:center;line-height:1;font-size:50px}.elementor-widget-text-editor .elementor-drop-cap-letter{display:inline-block}
Make your heart flutter with the Rio Daytona 50.
Recently, I thought I was having a health scare. I mean, my heart was palpitating, I broke into a sweat, and felt butterflies in my stomach. I thought for sure it was the big one coming on, but no. As I self-diagnosed my condition, I realized it was one thing: love at first sight! The subject of my admiration was the Rio Daytona 50.
An Enchanting First Impression With Curb Appeal
Now, you may think this is just another go-fast that does nothing more than try to look good running the Intracoastal Waterway with loud tunes. But this is so much more. For one, she has great curb appeal. Following the gently curved sheer line, you see a generous freeboard that blends in a gentle bow flare which results in a dry ride. Hull contours break up the flat surface while housing well-sized portholes. Toward the aft end, there are beach terrace doors that fold flat, increasing the deck space, creating more ways to access the water and opening up the view. An integrated swim platform wraps around the hull with rub-rail protection.
One very cool design innovation is the placement of the engines. When looking at the Rio Daytona 50, it's not readily evident as to what is powering the yacht. Since she doesn't have outboards hanging off the end, one must assume she has inboard or I/O propulsion. Ummm, no.
Rio has designed the 50 with a pocket under the large aft sunpad lounger that houses triple Mercury Racing 450R outboards. This is a smart idea as it changes the profile of the yacht and keeps the outboards out of the eye of a thief but also allows 360-degree access to the powerplants for maintenance. It also muffles the sound quite a bit, making for a more enjoyable ride. With the flick of a switch, the sunpad rises for engine access. 
Power and Design Working Together
When you merge this level of power with a hull design that works well through the speed range, you understand that the Rio Daytona 50 is something to be seen. It's not only that this boat looks good, but the handling and comfort also made this a love at first ride. Pushing the throttles up doesn't mean the bow goes up too. There is minimal rise and adjusting engine trim and tabs gives the captain great visibility. A little more height at the helm is courtesy of a fold-down standing platform for those vertically challenged.
My test run numbers were pretty much in line with Rio's numbers so safe to say this is a 49 mph/42.5 knot yacht at wide open. Cruise along at 32.2 mph/27.8 knots, 4,700 rpm, 58 gph burn, 237 nautical mile range. With 423 gallons of fuel, cruising at 9.2 mph/8 knots will offer 324 nautical mile range burning about 12 gph. What's good to know is that you can have the range when desired or speed when needed depending on cruising preferences.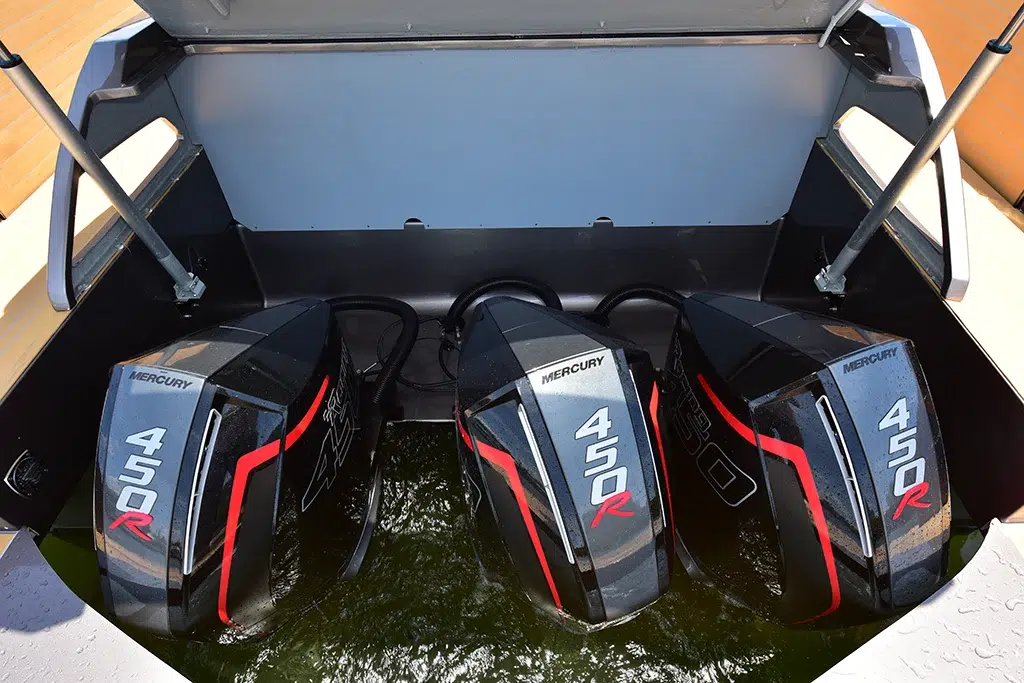 Historic Roots: The Rio Yachts Legacy
Rio Yachts started in 1961 on the banks of Sebino Lake, in Lombardy, Italy. Building recreational mahogany motorboats through the '60s, Rio switched to plastic construction in the 1970s, to build "a boat for all!"
The Scarani family has held onto the business for several generations, adding commercial vessels and patrol boats to the lineup. Currently, the recreational line includes Coupes and Open styles, of which the Daytona 50 is the largest.
Bringing the yachts to the U.S. takes a dedicated, exclusive dealer, one with the experience of new builds and brokerage. Enter Jeff Eldon, president and CEO of The Helm Yacht Group. Normally I wouldn't mention a dealer in an article, but Eldon's relationship is so tight with Rio that he might as well be part of the family. Eldon explained that he has taken actual design changes back to the team in Italy to enhance the products and make them more user friendly, and they listen. 
For example, the Daytona 34 is now offered as the Daytona 35 since Eldon asked Rio to extend the swim platform aft to allow for easier boarding and more foot space around the outboards (those outboards do hang off the transom and not in a pocket). That means you as a buyer have a pretty direct line to the factory in the event you would like some modifications. On the Daytona 50, there is no lower galley since there is an exterior galley on deck. But if you want a small one below, Eldon and Rio will build one as they can.
Sea Ray SLX 260
Access All Around
The low profile yet unencumbered center line helm looks a bit futuristic thanks to the Dual Garmin multifunction displays that handle all the operations and functions of the yacht, thereby reducing the number of switches at the helm. An app can be downloaded to an iPad or other device for remote control and monitoring. A Mercury engine monitor, joystick, throttles, VHF radio, and several illuminating cupholders fill out the helm space. Three individual bench seats with armrests and bolsters face the helm, so the operator can engage with guests. 
With full walkaround decks, this is one easy boat to navigate from bow to stern. Forward is a large sunpad in front of the raked back single-pane windshield. In front of the sunpad is a forward-facing bench seat with backrest. Across on the peak is another bench seat that faces aft. The ground tackle locker is just forward, out of the way and secure. For shade, a four-post awning can be installed. Grabrails on the gunwales offer safety when transiting.
Aft is another well-sized sunpad and electric awning that retrieves from the integrated hardtop feature. Aft the forward end of the pad is another bench seating area, flanking a flip-out teak table. The entertainment station has a flip-up top that reveals a built-in electric grill and deep stainless steel sink. Below are a fridge/freezer unit and ice machine. The Daytona 50 can carry a crowd and serve them as well.
As mentioned, the port and starboard gunwales open to create beach terraces, a classy touch that really opens the deck.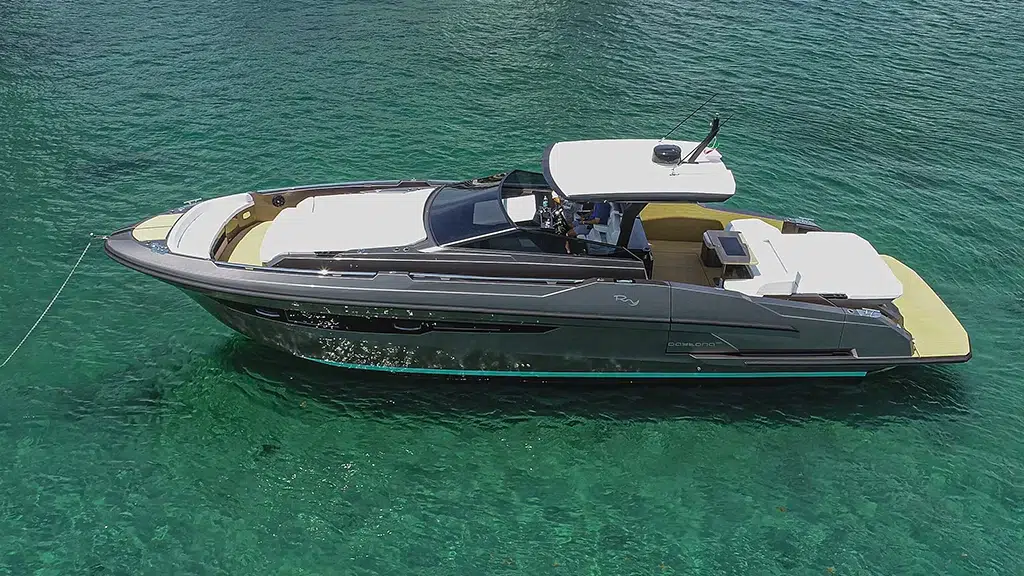 Relax in Elegance: Daytona 50 Interiors
Accommodations below make the Daytona 50 a true weekender. Thanks to the more than six feet of headroom, side windows, and atrium door, the cabin's open feel invites you in to relax. Curl up with a good book on the port-side sofa. Guests can stay in the midship cabin with twin berths.
Forward, the master stateroom has a king centerline berth accessible from all sides, storage, and side windows. Another great idea is that the master utilizes bifold doors so when open, it really adds to the overall sizeable feel and usable day space of the cabin.
A single head has a basin sink, electric toilet, and separate shower stall. The room is tastefully appointed with high-gloss wood counters, stylish faucet, and dark flooring. Or ask Eldon to create your own look.
Not to be outdone, the cabin and master use a combination of high-gloss wood doors and trim, leather pull handles, and light flooring. Or change it to make it your own. After all, it should be love at first sight. 
-by Tom Serio
The post Introducing the Rio Daytona 50: A Blend of Luxury, Power, and Style appeared first on Southern Boating.