Yard Work
What to look for in a yard when it's time to do some serious work on the boat.
Boat owners are always tinkering on their vessels, but when the job requires some time in the yard for a more comprehensive repair, there are a few things to consider before using their facilities. Proximity to home is a big one because the chances of living aboard during the project is nil, so depending on the scope of the project, ask a few questions to make sure the yard is right for you. 
Can I Work on the Boat Myself or Hire My Own Contractors?
Many yards allow owners and/or crew to work on their boats, but some don't, especially when it comes to bottom paint. Insurance and liability are primary concerns as is supporting the yard's contractors and service providers, but another, believe it or not, is keeping the area clean.
"Boat owners and crews are allowed to work on their own boats while here at our facility," says Tate Lawrence, general manager of Safe Harbor Jarrett Bay in Beaufort, North Carolina. "Owners are welcome to use outside contractors as long as they have the insurance required by our facility and pay a daily contractor fee. We do not allow spray painting to be performed or removal of anti-fouling paint by anyone but our staff. We have flexible hours and have electricity and water available for each boat we haul."
The same is true at Safe Harbor Lauderdale Marine Center (LMC). Boat owners are allowed to work on their vessels in the yard, depending on what the work is, but all bottom painting in the yard must be completed by one of its on-site tenants that are authorized to paint bottoms. The yard reaffirms, "Painting by air sprayers, scaffolding, welding, and tank cleaning must all be completed by authorized contractors that meet special requirements."
At smaller yards, there may not be room for do-it-yourself owners beyond what the yard can accommodate with its own boat repairs and refits. The facility at GB Marine Group in Stuart, Florida, is two acres; whereas, Jarrett Bay is 175 acres. 
"Owners may not work on their boats in our yard," says Joel Butler, marketing director for GB Marine Group. "Work can be done by their contractors for a fee and proof of insurance, but most work is performed by our in-house technicians."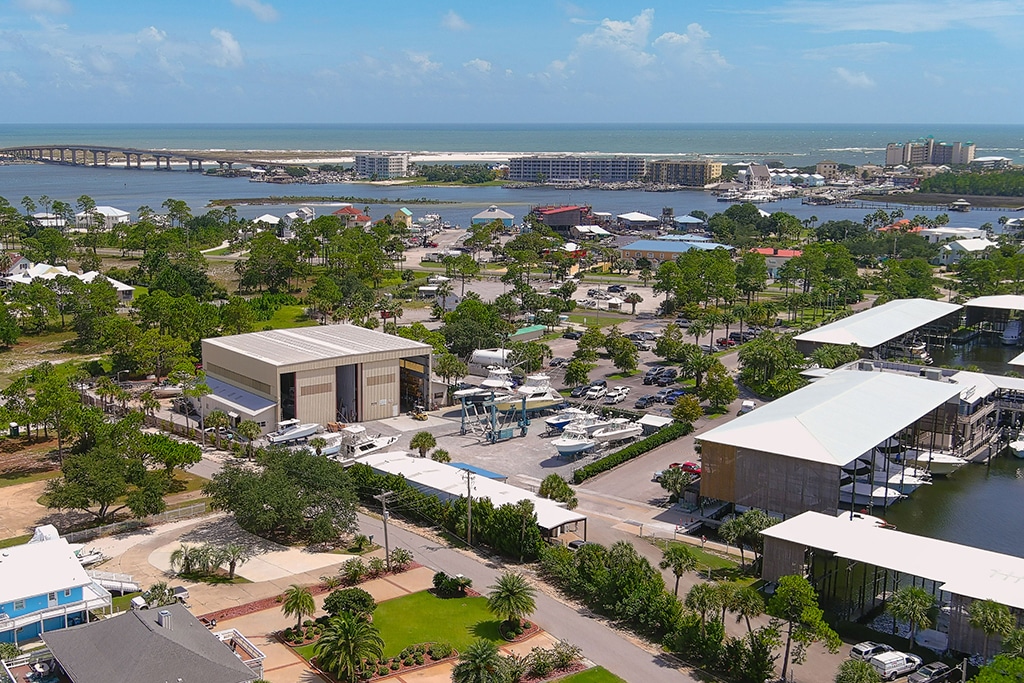 Saunders Marine Center in Orange Beach and Saunders Yachtworks along the Gulf Intracoastal Waterway (GICW) in Gulf Shores, Alabama, don't allow owners to work on their boats in the "traditional" do-it-yourself sense, but they do make exceptions depending on the project. Like the other yards, no painting or below waterline service or repairs are allowed by anyone other than Saunders staff or a pre-approved subcontractor. "Our customers are allowed to use their own subcontractors, depending on the services requested," says John Fitzgerald, president and CEO. "However, the subcontractor must be pre-approved by Saunders, insured, and be in good standing with our company."
Do You Have the Services I Need?
Most yards are full-service in that they offer a wide range of repair and refit services with skilled technicians on-site. This is convenient for owners and technicians because the shop is right there equipped with machining tools as well as parts. It's also good to know if the yard has certified mechanics and technicians that can work on your boat's engine, electronic, and mechanical systems. 
"At Safe Harbor Lauderdale Marine Center, we have on-site contractors who perform most every shipyard trade, including but not limited to, shaft alignment, vibration analysis, class certified welding, custom stainless steel manufacturing, carpentry and cabinetry, canvas work, class certified hull plating, and project management," says the yard.
Over at Saunders' yards, Fitzgerald notes, "We have highly skilled, factory-certified technicians for all areas of refit, repair, and yard work. This includes diesel and outboard engines, driveline and running gear, Seakeeper and other vessel systems, and marine crafts (paint, fiberglass, and carpentry). We have workshops with specialized tooling for each department. Both locations have fully enclosed buildings for paint and other projects needing weather protection."
Speaking of parts, having a supply on property helps keep work moving. Yes, there are the specialty items that have to be ordered from the manufacturer, but as an example, Jarrett Bay stocks more than $1 million in inventory from zincs to fighting chairs. GB Marine Group carries basic parts and gear, but because of its location in boating-rich Stuart, items are sourced and delivered quickly through its network of suppliers. 

What are the Costs?
You probably have a general idea of what the parts cost, but don't forget labor and yard services. They all add up quickly. Yards typically have price sheets for the services they provide, and contractors will have their own fee schedules, so it's crucial to get estimates before any work is done. Some will quote a job as a fixed rate while others will add up time and material. Check to see what's included, such as haul-out, the yard space, power, etc.  
"The fee structure is calculated based on the work specifications and is agreed upon before work begins," says Fitzgerald at Saunders. "We provide turn-key quotes for certain services, such as standard bottom jobs based on the size of the boat. Other projects are billed using separate charges for all operations performed. This typically takes the form of a quoted project or one that is billed based on the actual time and materials it took to complete the project."
LMC has fee structures for dockage and laydays based on the length of the vessel, and there is a separate charge for covered sheds. Utilities, such as power, are billed separately dependent upon requirements. 
Just as Important
There are some benefits that just might help you choose the yard for your repair or refit. 
Dock space is one if you don't have to haul the boat, and most allow work to be done there. Water and power are usually available and some, such as Saunders Yachtworks and LMC, allow the owner or crew to live aboard while services are being performed. At LMC, the boat has to be 65 feet or longer. 
"We have 10 fixed slips and in excess of 1,000 feet of alongside and floating docks available," says Lawrence at Jarrett Bay. "We offer water and power up to 100 amps.
Security is also a factor considering the boat's value. All the yards included in this feature have on-site manned security along with cameras. Gate codes are also used at some locations.
Hurricane preparedness is always a concern. Every yard has procedures set in place for major storms based on intensity. LMC has an extensive detailed hurricane plan in place where actions start seven days in advance of landfall. Saunders also includes hurricane haul-out plans for its locations with prepaid customers, and Jarrett Bay works with any boat on its site to help find a place and secure it at the facility.
"Our yard is not a hurricane storage facility," says Butler about GB Marine Group's Stuart yard. "However, it is located in a very protected section of the St. Lucie River. Boats may stay in the yard during a named storm."
Looking for more articles on Haul Out and Maintenance Check Out Our DIY Section  
Amenities are Always a Plus
The quality of work done at the yard is most important, but there are amenities at most yards or in the area that can make it easier for you to decide to use the facility. A lot has to do with the size of the boat, if crew are involved, or if the distance from home is far enough that you'd need to stay a few days. GB Marine Group is currently developing accommodations for captains and clients. The Stuart yard is conveniently located near Interstate 95 and the Florida Turnpike minutes to downtown Stuart and 35 minutes north of the Palm Beach Airport. There is easy access to both the Atlantic and Gulf coasts of Florida, not to mention the array of restaurants, activities, and beaches in the Stuart area. 
"Both Saunders yard locations are close to a variety of restaurants, golf courses, shopping, accommodations, and most importantly, our world-famous sugar-sand beaches," says Fitzgerald. "Gulf Shores and Orange Beach have quickly become two of the most popular vacation destinations on the Gulf Coast."
Jarrett Bay offers an owner's and crew lounge, courtesy car, and ship store. Diesel, gas, and showers are available. "We are five miles from Beaufort, North Carolina, that has a variety of very good restaurants, shopping, and hotels available."
LMC has a full-service gym, monthly crew events, concierge, high-speed Wi-Fi, the YOT café and kitchen on-site, as well as food trucks.
One final thought: Find out about the yard's reputation. What happens to the kind smiles after you've signed on the dotted line? Ask fellow boaters or non-employee contractors working in the yard their thoughts about the operations, how the management treats their employees, and the yard's association with the local community. Get recommendations about other yards in the area and their experiences with them for comparison. You'll feel more comfortable knowing that the yard you chose is reputable, considerate, and professional.
Stay informed with the latest from Southern Boating
-by Jeremy Peters