FLOOPin' –
 

Florida Loop Cruising
Start your journey anywhere along the route to experience a different kind of Florida.
Looking for a different sort of adventure? Try FLOOPin'—boating along the Florida Loop. You can make a loop around the southern tip of Florida that includes the cut through the Okeechobee Waterway, the stretch along Florida's southwest coast in the Gulf of Mexico, around the Florida Keys, and along the East Coast (inside via the Intracoastal Waterway (ICW) or outside in the Atlantic) back to your starting point. There is no time limit to your travels, as Florida enjoys cruising weather all year long. 
You may want to prepare for your trip with a cruising guide and a few books, something with a bit of Florida history to plan your stops. You can begin your journey anywhere along the route and go clockwise or counterclockwise. Just cross your wake where you started and you're FLOOPin'! I promise you will experience a different kind of Florida.
Let's Start in Miami
The hustle and bustle of the City of Miami is surrounded by sparkling turquoise water that's a great start for our Florida Loop. There are faster routes to plot this cruise, but we plan to smell the roses and see the sights by cruising mostly inside on the ICW. With many low drawbridges that require opening for your boat, reduce your air draft by lowering your antennas to make it an easier trip.
Cruising north, look to your right while passing by the inlet ship channel usually filled with cruise liners at the dock. Caution: This channel is closed to pleasure boats even when the cruise ships are not in port as a security protocol. For a great view of south Florida's waterfront homes, just stay on the inland ICW route.
Tall condos and skyscraper hotels form a canyon path along the ICW for a few miles. But soon the landscape changes as you cruise through Hollywood and Dania Beach. Throughout this adventure, you will be treated to local flora and many sea birds. Keep a sharp eye!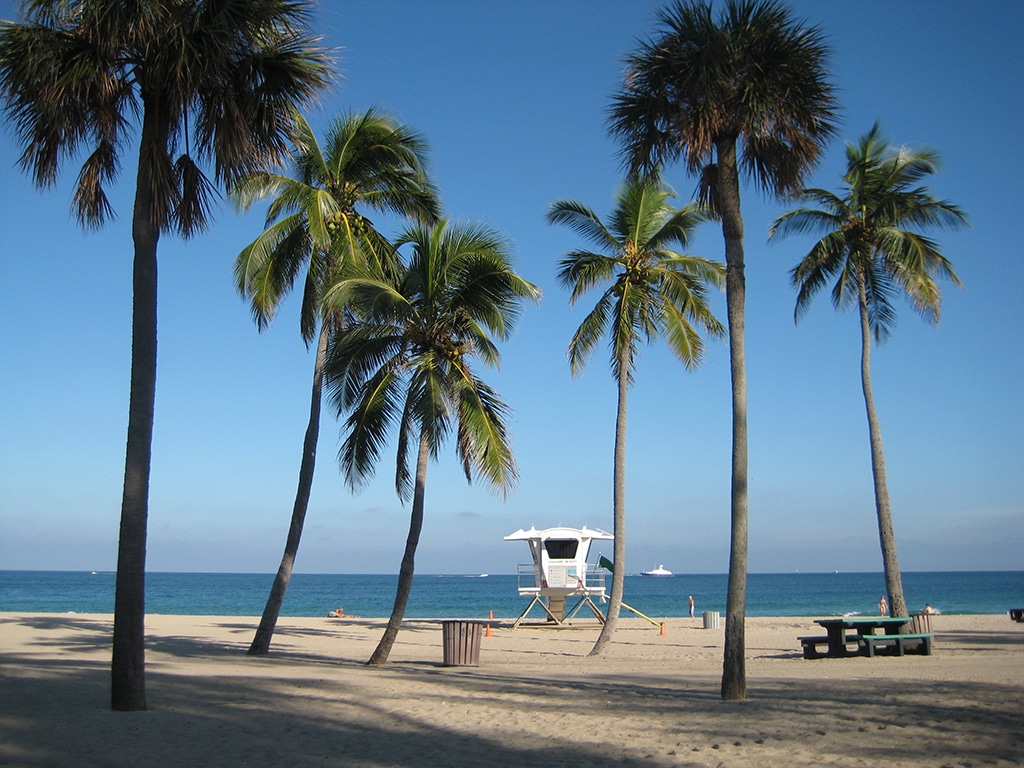 Around 30 miles north of Miami, you arrive at another commercial shipping area known as Port Everglades. Landlubbers call this Fort Lauderdale, home to the International Swimming Hall of Fame, megayachts, and plenty of restaurants to people watch. Marina choices are abundant for the next 50 miles or so. Tie up before setting out on foot to explore the stunning white beaches of the Atlantic Ocean. Anchoring can be a challenge but is possible in this part of the FLOOP for the adventurous cruiser.
Safety First and the Fun Follows
It's always important to have a lookout for safety purposes but that assigned task is essential in this stretch of the waterway. Incredible architectural designs line both sides of the channel and can steal your attention from key navigation duties. Infinity pools abound with waterfalls inside multistory residences, all part of the unique and contemporary displays. The yachts docked behind these homes are spectacular, too, but remember your responsibility to the rules of the waterway and take precautions. Keep your cruise on track.
By now, you realize that the numerous drawbridges have schedules to open allowing you to maintain slow speeds on this part of the ICW. Check your cruising guide for bridge heights and posted schedules. Always request an opening on VHF channel 9 if your height restricts you from passing under.
Anchorages and New Friends
You'll soon arrive in the Palm Beaches, nearing the Lake Worth Inlet on your next stop of the Florida Loop. Here, the waterway widens, but let the channel guide you to the deeper water, and respect the manatee zones. Anchorages are plentiful in Lake Worth and farther north. Watch your forecasted wind direction and choose where to lower the hook considering your depth, wind fetch, and the tidal range of about three-and-a-quarter feet
in this area. 
Peanut Island is just west of the inlet and was built by dredging the ship channel. Home to President John F. Kennedy's bomb shelter during the Cuban Missile Crisis, Peanut Island is a great dinghy stop. Be aware of the high traffic of both pleasure and commercial crafts as you cross the channel. Farther north, the Jupiter Lighthouse along the Loxahatchee River marks a locals-only inlet due to shifting shoals.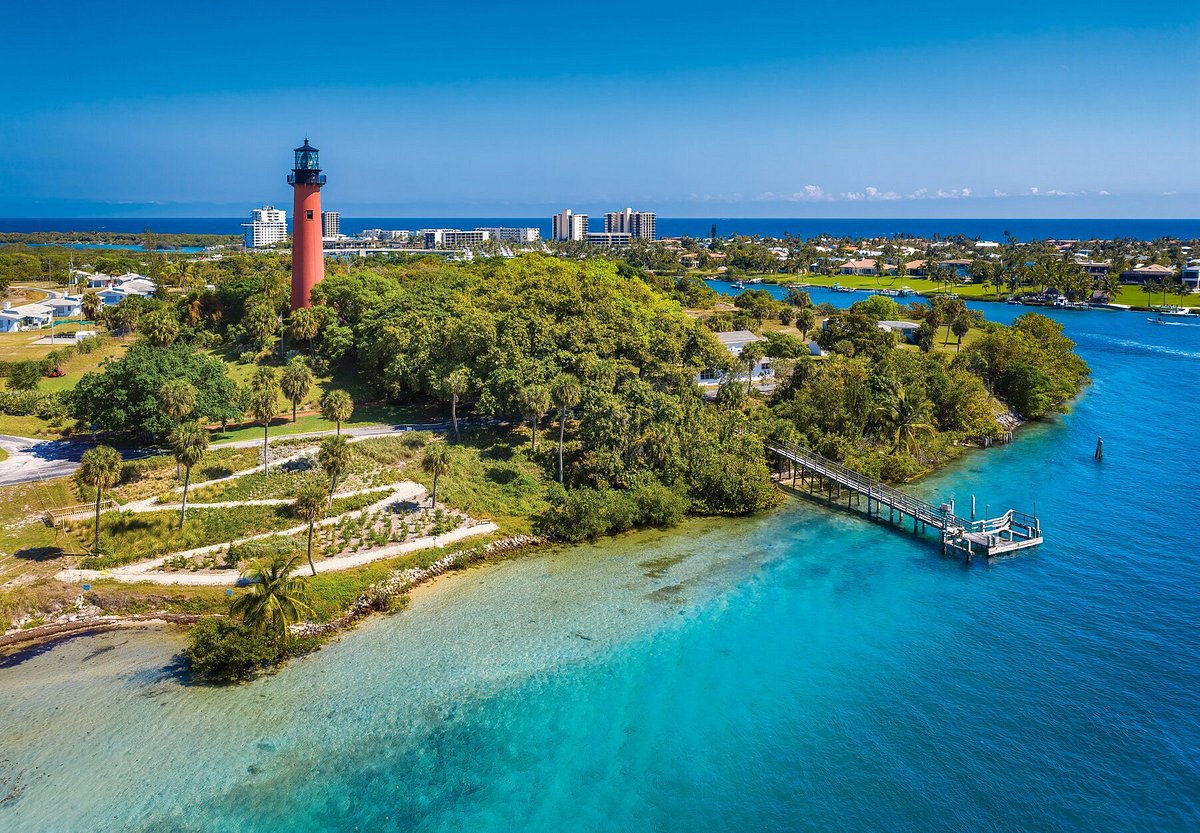 Welcome to old Florida, where bird-watching is an art and quite entertaining. Dolphin have likely been following you, too, so look over the bow rail at these friendly critters or in your side wake to spy these glorious mammals. Soon, you are entering the Treasure Coast starting with Martin County, a less-densely populated area with many golf courses and even horseback rides on the beach. Scrub trees and mangroves mark undeveloped land on both sides of the ICW. Don't blink or you may miss an iguana or osprey camouflaged in the brush.

Slow Your Ride
The midway point of your Florida Loop comes near the crossroads of the ICW and the start of the Okeechobee Waterway past Jupiter Island, head west to enter the St. Lucie River and Stuart. Take a left past Stuart where the river will lead you to Port Mayaca. Throughout this waterway, you'll find plenty of choices to stop each evening: marinas, mooring balls, and anchorages. Look at your charts and note the upcoming five locks you will traverse connecting the Atlantic Ocean to the Gulf of Mexico across the state. Two are on the eastern side of Lake Okeechobee to raise you up to lake level. Three more locks will lower you down to the level of the Gulf waters. Contact the lockmasters on VHF channel 13.
Across Lake O
Wait for a favorable weather forecast on your Florida Loop to cross 25 miles of open water on Lake Okeechobee, a very shallow lake. Although it can whip up quickly with a strong wind from any direction, most boats will only feel the uncomfortable beam seas if the wind is strong from the north or south. So wait a day or so in Stuart, and enjoy restaurants or provision in the nearby grocery stores before proceeding.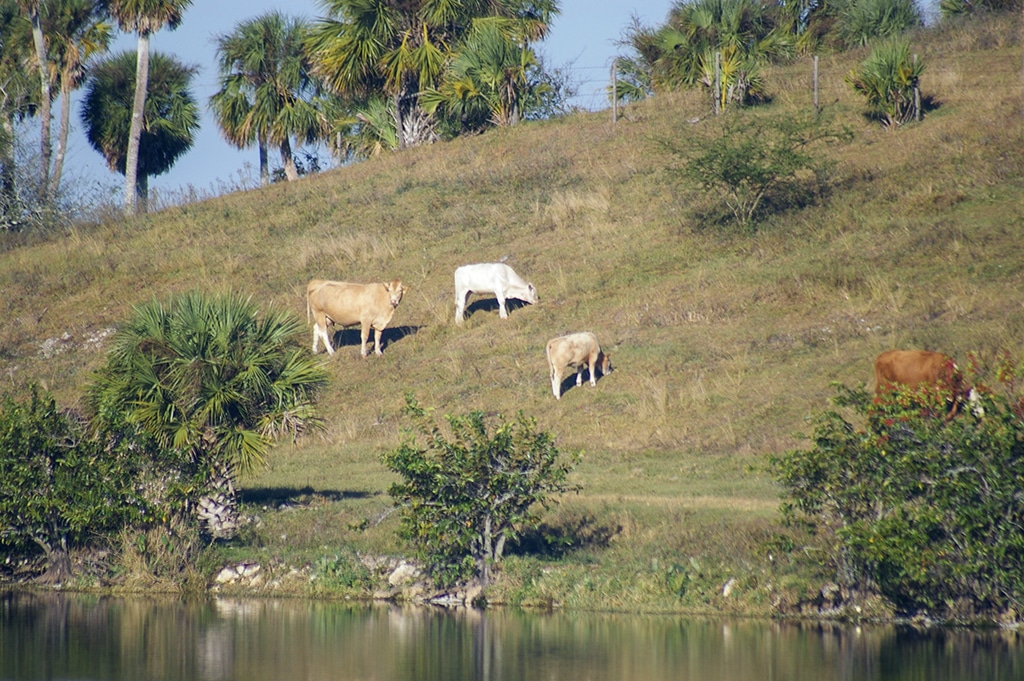 Wherever you land for the evening, you will see sea cows (manatees) and land cows. That's right. There is an abundance of cattle trotting alongside the Okeechobee Waterway because Florida has a thriving cattle production. And you thought Florida was just about the beaches and fishing.
Docked in Clewiston? Head to the Clewiston Museum for local history, WWII aeronautical artifacts, and you may even see a working steam engine train in the sugarcane fields. There is more to do along the Okeechobee Waterway than just locking through. Continue up to Moore Haven to pick up the Caloosahatchee Canal to head west over to Fort Myers. 
The Lee County area of the Florida Loop has recently experienced the full force of a Category 4 hurricane but is recovering swiftly. While the entire Okeechobee Waterway is navigable from the Gulf to the Atlantic, check with the Local Notice to Mariners and other online resources, such as waterwayguide.com, for the latest navigation alerts. Likely, you should brush up your anchoring skills if you want to overnight on this part of your adventure, but fuel and provisions are available. 

Heading South
At the end of the Okeechobee Waterway, cruise south through San Carlos Bay into the Gulf of Mexico. Naples is just 32 miles for a short run to marinas or anchoring. Marco Island is less than 15 miles farther for a longer daily run. If you have a good weather window, it's a fairly straight 80-mile cruise from Marco Island to Key West. Sometimes, you want to keep your days short; in that case, try the Little Shark River anchorage. If you're looking for the Conch Republic, you are almost there.
Key West, here we come! Before arriving in this paradise, we recommend securing marina reservations ahead of time. Docking in a slip allows worry-free exploring through the walkable streets of the southernmost part of the U.S. Visit museums, restaurants, and watering holes with lots of character, minding the ever-present wild chickens and Hemingway's six-toed cats. Don't miss the daily sunset festivities in Mallory Square complete with street performers—every…single…night.
It's tough to tear away from the frivolity of this quirky key, but it's time to move onward north and east as you follow the island chain. Although you are now on the homestretch, the last leg of this FLOOP is simply gorgeous. Meander through the five main keys, each with a unique personality to explore. Crystal, azure water and coral reefs offer sun, snorkel, SCUBA, and fishing to delight on the journey to Biscayne Bay. The skyline of downtown Miami is ready to welcome you back. Crossing your wake means your adventure is over—for now. Bet you're already planning another FLOOP!
-by Chris Caldwell