Use The Right Paint For A Shiny New Coat
Choose the right topside paint based on its qualities and ease of use.
A fresh coat of topside paint on your boat usually garners admiration from others for that shiny, clean look, but beyond the aesthetic value, the protection against UV light, moisture, salt, and scuffs from crew and gear is way more important.
Topside paint is just what it describes, on the top, above the waterline, including hull sides, the deck, and interiors. There are numerous paint manufacturers that have a variety of marine coatings for every part of a boat from the base coat to the top coat and from primers to paints, varnishes, and stains. Each coating is formulated for a different purpose to provide longevity to the material covered, such as metals, fabrics, wood, plastics, and more. They are durable, flexible (to expand and contract), and maintain color and finish. All paint formulas differ by manufacturer to some extent, and each suggests using their brand for fillers, primers, and additives, but the key is to use chemically compatible products.  
Different Types
There are three types of topside paint: one-part polyurethane, two-part polyurethane, and alkyd enamel. West Marine, who has its own paint brand as well as those from Pettit and AzkoNobel (Interlux and Epifanes), explains that alkyd enamel is an oil-based paint that is easy to use because it doesn't require as much effort (only need a brush) as polyurethanes. It is a good choice for wood as it's compatible with the wood's natural oils.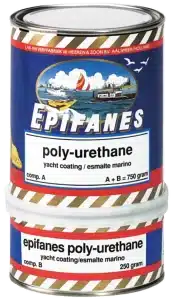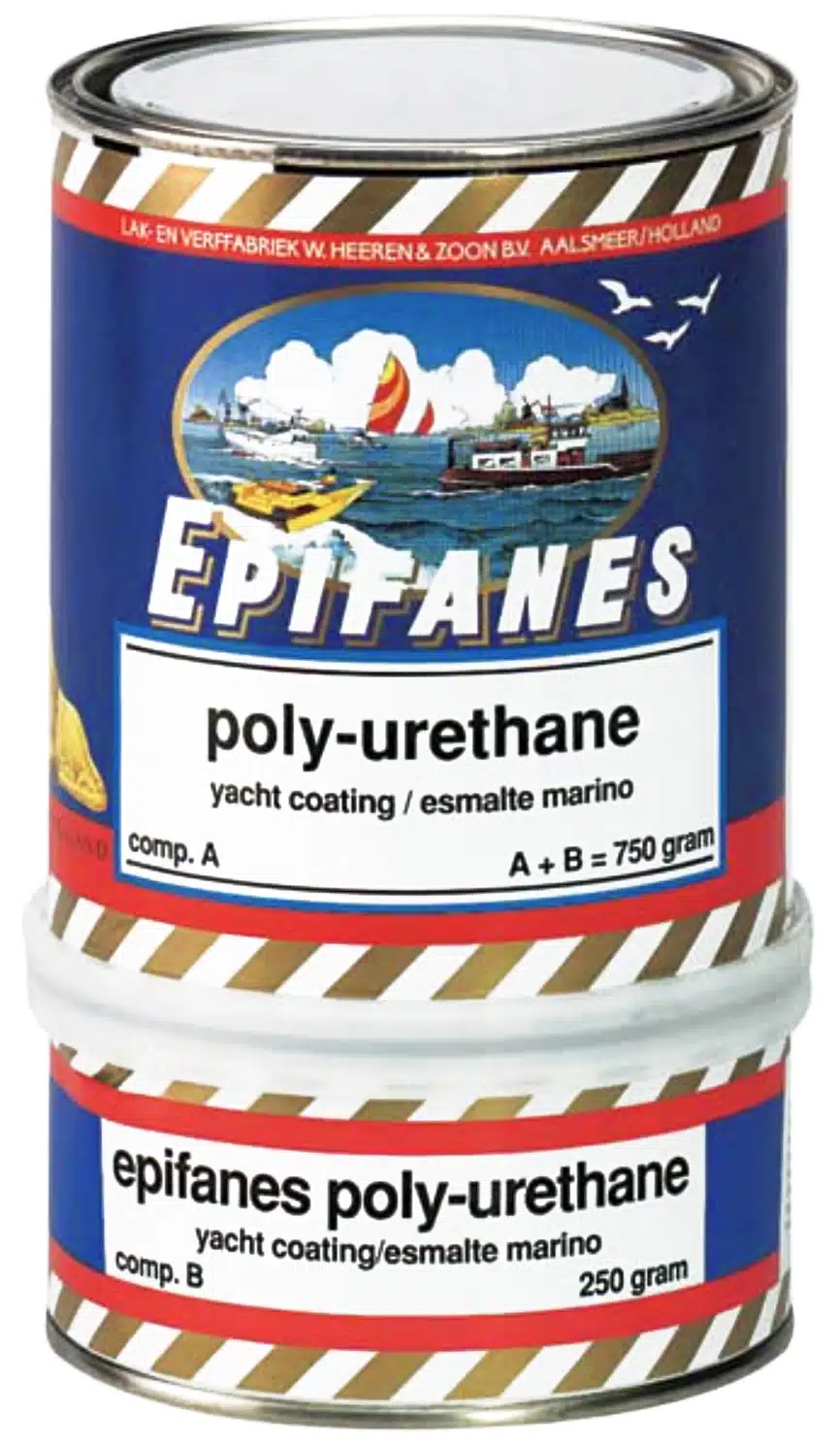 The most popular is one-part polyurethane, especially with DIYers because even when used with a brush or roller, its appearance looks like a professional did it. 
"Simplicity is one of the best things about one-part polyurethane," says Dan Gendreau, TotalBoat's marketing director. TotalBoat paints can be purchased directly from TotalBoat, Jamestown Distributors, and Amazon. "It's easier to work with as there's no measuring or mixing of components and no induction times. With a brush and a roller, you can get a gorgeous, long-lasting finish." However, it's not as durable as two-part polyurethane, which is the hardest, strongest, and highest gloss paint available. 
Karl Anderson of Karl's Boat Shop in Cape Cod, Massachusetts, noted in an article for DIYers that he primarily uses two-part products applied with a spray gun, and commented that they provide a hard, shiny finish that will last for years. However, because they're sensitive to exact mix ratios and require special equipment as well as perfect conditions, they are difficult for the novice to get good results. He recommends using one-part products that are designed to be applied by the roll-and-tip method, i.e., roll on and smooth with a brush.
Gendreau points out that if you're painting over previous topside paint and don't know what type it is, then it's best to use a one-part polyurethane. "This is because one-part polyurethanes are compatible with other one-part polyurethanes or two-part polyurethanes when applied on top," he says. "But when applying two-part polyurethane on top of a one-part polyurethane, the solvents in the two-part paint are likely to damage the underlying one-part finish."
How Much to Use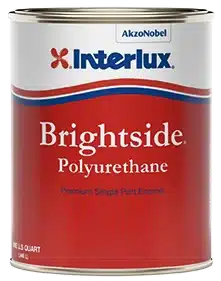 As for how much paint you'll need, TotalBoat provided this chart as a reference, but it always depends on how heavily it's applied and if you use two coats. This is for the hull topside only.
Once you've decided on which paint to use, there's much more to the painting process, including the tools and safety equipment as well as application procedures. But what really matters is the prep prior to dipping in the brush. 
"Tackling topside painting yourself can give you a professional-grade finish at a small fraction of what professionals charge, but only if you approach it the way the boatyard does," says Gendreau. "About ninety percent of your focus has to be on surface prep. If the surface is super-smooth and faired before you pry open the paint can, it should be that way after the final coat has cured." 
-by Steve Davis
Read More Southern Boating Haul-Out Guides Here.