The World of Yacht Transport: Shipping the Ship
Whether a builder, broker, or owner/operator, transporting a yacht is the final step to enjoying the ride.
There's so much excitement when you buy a new boat, even if it's used. Now, how do you get it from where you bought it to your place? It all depends on the size of the boat. You can trailer it yourself, but do you have a vehicle that can tow it? Have you driven a trailer before? Do you have the time, or should you hire a professional boat hauler with a commercial tractor-trailer? Are you close enough to home to deliver the boat yourself on its own bottom, or should a yacht transport ship deliver it for you? 
The Yacht Transport Journey: Coming to America
Yachts built overseas find their way to brokers and owners in the U.S. on a transport ship. Some do travel on their own bottoms, but by the time they make it across the Atlantic or the Pacific, the boat usually gets beat up, puts a lot of hours on the engines, and quickly become a used boat, something the owner and the broker want to avoid. 
"We have shipped a yacht on its own bottom to closer countries and destinations," says Joel Butler of Grand Banks. "Most of our boats would handle the bluewater voyage, if required, but the engine hours would be significant before the customer took delivery, so it is not viable." Grand Banks yachts are built in Malaysia, so a trip across the Pacific Ocean and through the Panama Canal to reach the East Coast will definitely put miles on the hull.
That's where yacht transport ships come in. Although there are restrictions as to who can ship where, it's a wise choice.
"In the ocean yacht transport industry, there are several different entities that provide this service: ship owners, such as Sevenstar Yacht Transport, operators who charter deck space on vessels, and freight forwarders (transport brokers)," says Jay Jones of Sevenstar Yacht Transport. "All transport vessels are foreign flagged ships which eliminates their ability to ship from one U.S. port to another due to the Jones Act. If they load in a foreign port, they can discharge in a U.S. port, and if they load in a U.S. port, they must discharge in a foreign port. For U.S. manufacturers wishing to ship their boats to U.S. dealers, trucking or water delivery might be the only option."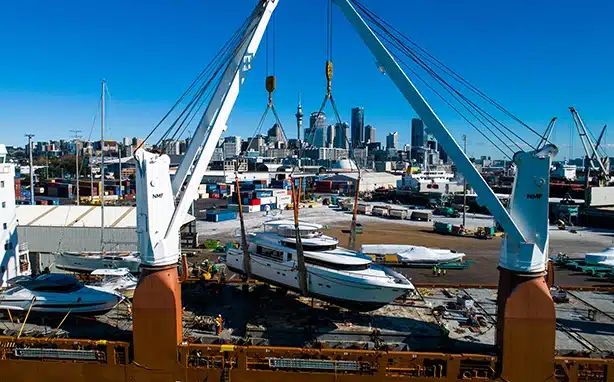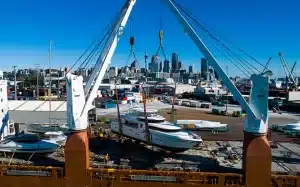 An example of that process is when yachts need to go from the U.S. East Coast to the West Coast. Yachts are loaded in Palm Beach, Florida, and discharged in Ensenada, Mexico, or Victoria, British Columbia, Canada. 
Loading and Off-Loading
Many ships load yachts via cranes, but Dockwise Yacht Transport has a unique float-on/float-off loading method where the ship submerges. Yachts are motored in and "moored" into pre-planned positions. Once complete, the stern door closes, engines are turned off, and divers check the cradles (that were prepared for each yacht prior to load) to make sure they remain in position as the water is pumped out. After the deck is dry, cradles are checked again and secured for the crossing. Dockwise also allows one or two crew members to ride with the yacht and perform maintenance while underway.
From Builder to Broker
When it's time to ship the new build to the U.S., the yacht is, for the most part, ready to go. "The items that aren't ready to go are those the client has made as add-on purchases with the dealer, such as an upgraded stereo system or a satellite TV system," says Alain Raas, brand manager for Aquila Power Catamarans. You can learn more about Aquila here.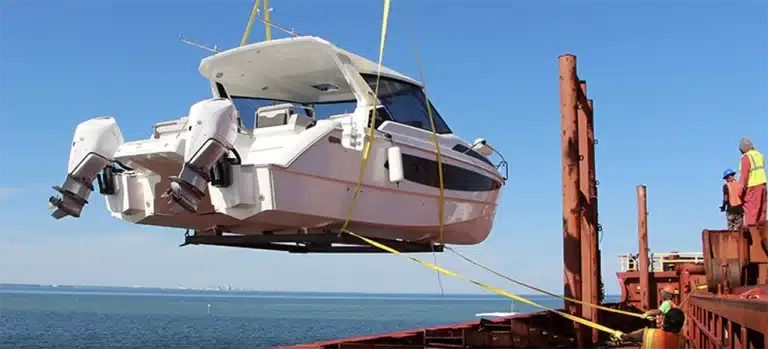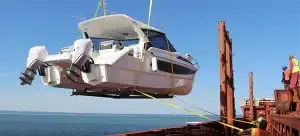 "We have an extensive sea trial program in the yard," says Roger Sowerbutts, director at Horizon Yacht USA. "We can do sea trials with Caterpillar, with MTU, whoever it may be…. All the appliances are run, all the generators, everything else, and once the boat is ready for shipment, and all the quality assurance tests have been done, it's prepped with a heavy layer of shipping wax and loaded on board the ship. When we unload it here, we have our team go down to the docks, unload the boats, and we take it to either a marina or a boatyard…. Then we recommission." Generators, engines, appliances, electrical, even hose clamps are rechecked before delivery.
Panu Virtanen, vice president of sales at CL Yachts, describes a similar scenario. "We do technical internal sea trials at the yard and system checks are mostly done at the yard by the local dealers," he explains. "We are a builder that purchases a lot of components, materials, and parts from the United States, and we ship them over." At that point, they're installed at the yard where local reps can do tests to make sure everything's okay before the sea trial. Once the boat arrives in the U.S., all the components are tested again by the manufacturer. (Read more about CL Yachts here)
Shipping used to be fairly simple, but COVID-19 threw a wrench into that process. There was less space due to ship availability, so deliveries were drastically delayed. "Earlier, it was we have a boat ready, we call the carriers and check what's available, and they'd have a ship," says Virtanen. During the pandemic, Virtanen says scheduling a transport was like pulling teeth. "It took a little bit longer to find the actual ship."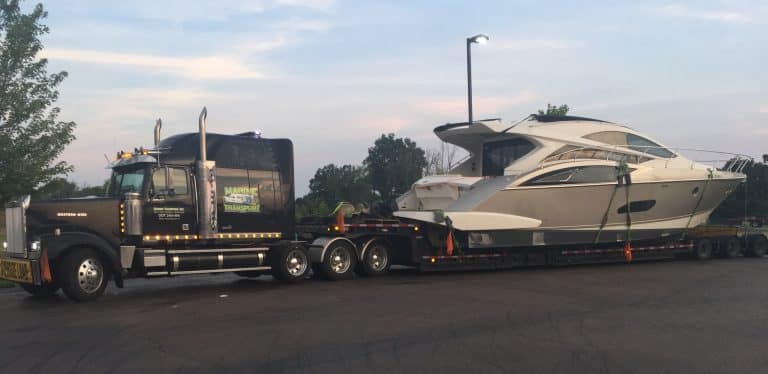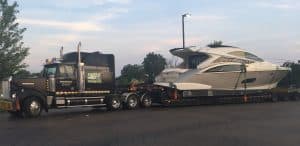 "Shipping is getting better now," says Raas. "We're starting to see rates coming down pretty quickly, but that also relates to ship availability; we are seeing more ships being available." 
With COVID, Aquila's logistics department got creative to find the best way to ship its yachts from Shanghai to Port Manatee, Florida. "We found, at least for our shipping, the most economical way is to buy up the entire deck of a ship," says Raas. "The highest number was twenty-nine on one ship a few months ago…. The next ship we've got fourteen boats, and the ship after that will probably be well into the mid to upper twenties." Once in Port Manatee, Aquila uses both truck haulers and the water to reach the MarineMax stores. 
On the Road
As Jones mentioned, for those wishing to ship their boats in the U.S. and don't want it delivered on its bottom, trucking is a viable source. Companies, such as Marine Transport, have a variety of services from removing the flybridge to lower heights to covering the yacht in shrink wrap to protect it from road grime.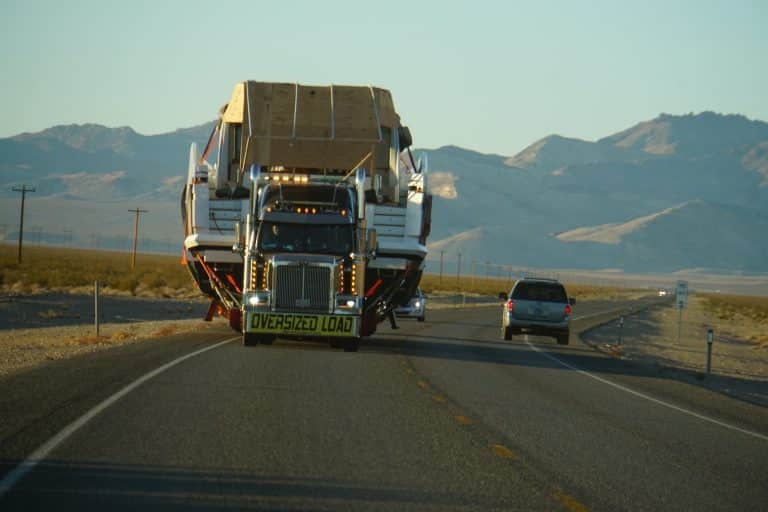 "The largest boat we can haul is eighty feet," says Paul Laird of Marine Transport. However, transporting the yacht does have its limitations. "For instance, with a forty-six-foot Sea Ray, I can go from here to Chicago in seventy-two hours or less. A sixty-foot Sea Ray takes me about six days." The reason for the time difference is the 60-foot boat is too tall for the interstate roads. 
"Height is what determines whether we're on the interstate or not," he continues. "Most bridges are fifteen feet or less." That means taking the back highways, county roads, etc. In addition, there are state permits, county permits, city permits, front and rear escorts, and sometimes, police escorts. "Every state is different."
Laird has 27 years of experience with yacht transport and offers services that include removing the flybridge and electronics then putting them back together at the final destination, GPS tracking during transport, and insurance. They also work with builders to deliver boats to shows and owners alike.   
Buying the boat is an exciting time, so make sure it's delivered with the same enthusiasm and choose wisely. Arriving to your home safely and without stress adds to the joy when you start up the engines for her first run.
-by Jeremy Peters
Subscribe to our eNewsletter